Goldman banker in insider trial hid $35,000 cash in sunglasses case
The Goldman Sachs banker, on trial for insider trading, had a secret in his closet: $US24,000 ($35,154) tucked into a sunglasses case.
The stash, US prosecutors said on Tuesday, shows there's a risk he might flee before his trial on insider-trading charges.
Vice President Bryan Cohen had $US24,000 in the case, hidden in a dresser drawer in his closet, prosecutors in Manhattan said in a letter to a judge. The French citizen also has an overseas bank account with more than $US533,000 and owns four properties in France worth over $US500,000, prosecutors said, citing Cohen's tax returns.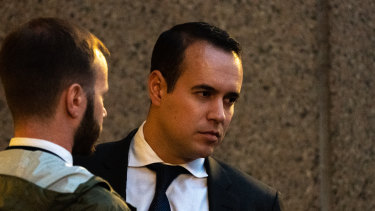 US District Judge William Pauley had set bail for Cohen at $US750,000 and ordered him to remain under house arrest with a GPS bracelet until his trial. Cohen is seeking to be released from house arrest.
Cohen's lawyer Benjamin Brafman argued in a letter on Monday that his client's confinement in a one-bedroom apartment, which he shares with his girlfriend and mother, was detrimental to his "physical and mental health."
'Not unusual in other cultures'
The lawyer said it's not unusual in other cultures to have large amounts of cash at home, including in France.
Cohen, 33, was arrested on October 18 and charged with two counts of conspiracy for his role in an insider-trading ring. Prosecutors claim he passed information about pending mergers to another member of the ring using burner phones and speaking in code.
Cohen leaked nonpublic information for almost three years in exchange for cash as part of the international insider trading scheme that led to $US2.6 million in illicit gains, according to a complaint from the US Securities and Exchange Commission.
Some information was tied to pending deals involving Syngenta AG and Buffalo Wild Wings, the documents show.
Goldman placed Cohen on paid leave following his arrest.
The accusations are the third insider-trading allegations lodged by US prosecutors against a Goldman banker in the past 18 months.
Cohen has been with Goldman for almost 10 years, starting in the London office before being transferred to New York in 2017. The insider tips were shared between April 2015 and November 2017, according to the SEC complaint.
Last month, Cohen fired his lawyer after a judge ordered him to remain under house arrest and tripled the amount of his bond, from $US250,000 to US$750,000.
Bloomberg 
Source: Thanks smh.com