'Humbug': ASIC slammed for last-minute evidence in Mitchell trial
The corporate watchdog has been blasted over trying to introduce documents relating to former Tennis Australia director and adman Harold Mitchell's old private business Aegis, which the regulator believes might show a commercial relationship between him and Seven during negotiations for the rights to broadcast the Australian Open in 2013.
The Australian Securities and Investments Commission (ASIC) copped a battering from Justice Jonathan Beach at the Federal Court in Melbourne on Wednesday over its last-minute bid to introduce new evidence to aid its case against Mr Mitchell and former Tennis Australia president Steve Healy. The court heard the evidence had come to light after ASIC has been contacted by an anonymous whistleblower.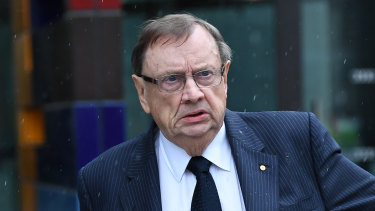 The court heard ASIC took the unusual step of using its coercive powers to issue notices to the current owner of Mitchell Media, Aegis Group, during the trial, rather than asking the court to issue notices.
The accusation was made during the civil penalty proceedings launched by ASIC against Mr Mitchell and Mr Healy alleging the pair had acted inappropriately by helping Seven secure the tennis rights over other potential bidders.
In a heated exchange, Justice Beach told ASIC's counsel Michael Pearce that the regulator's approach "had a smell about it".
"I think your submissions smack of humbug and of insincerity," Justice Beach said.
"I've been doing this for decades and I've never seen ASIC halfway through a proceeding think it was appropriate to exercise coercive power to get cross examination material," Justice Beach said.
I think your submissions smack of humbug and of insincerity.

Justice Jonathan Beach
Mr Pearce, SC, told the court that ASIC ought to be allowed to use the documents so it could cross examine Mr Mitchell about the financial arrangements with Aegis.
"The way his media business was conducted may have shed some light on the business relationship with Seven," Mr Pearce said.
"People come forward with information and some of it's useful and some of it's not useful," Mr Pearce said.
Counsel for Mr Mitchell, Matthew Collins, QC said the approach by ASIC was "scandalous".
Dr Collins said Mr Mitchell had sold his business in 2010 and had ceased all financial relationships with Aegis by the time of the rights negotiations in 2013.
"It's quite disingenuous," Dr Collins said.
"A Google search would have identified the flaw in ASIC's argument," he said.
Source: Thanks smh.com