'So many great parallels': Winklevoss brothers buy a startup founded by identical twins
Crypto entrepreneurs Tyler and Cameron Winklevoss just made their first-ever acquisition, and the duo behind the company they bought couldn't be more similar.
Duncan and Griffin Cock Foster, 25, are also identical twins. While the 38-year-old Winklevoss brothers rowed in the 2008 Beijing Olympics, the other twins rowed in high school. That said, the Cock Fosters weren't involved in the birthing of social network Facebook.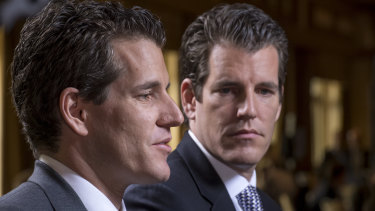 "You can't make this stuff up," Tyler Winklevoss said in a phone interview. "There are so many great parallels, it was just the right fit."
The two sets of twins came together over their belief in the future of so-called nifties. A niftie may be a cat from the CryptoKitties game, in which players breed the digital felines, or a token representing ownership in art, stamps and comic books — an asset that is being kept track of via a blockchain digital ledger and is tradeable. To buy such a collectible, people typically have to open digital currency wallets, buy cryptocurrency on an exchange — a process that can take hours and can be confusing.
The Cock Fosters' Nifty Gateway, which the Winklevoss's Gemini Trust Co. bought for an undisclosed sum, lets anyone pay for nifties with a credit card, via a streamlined experience similar to checking out through Amazon. The company currently lets people buy nifties from Open Sea marketplace and CryptoKitties and Gods Unchained games. It doesn't disclose its customer numbers or payment volume. But Duncan Cock Foster forecasts that nifties could one day attract 1 billion collectors. The Winklevoss expect that the market for nifties will be as big as the collectibles, art and gaming markets combined.
"We believe in this future where all your assets will be on a blockchain and you may want to buy, sell and store them, and Nifty fits that vision," Tyler Winklevoss said.
While initially Gemini, with more than 220 employees, and Nifty, with three workers, will continue to operate as stand-alone companies, that could change, and some of Nifty's features could make way into Gemini services.
The Cock Foster brothers earned their bachelors of computer science and of mathematics, respectively, from different colleges in 2017 and entered the corporate world. Duncan Cock Foster worked as a developer for a consultancy for a year in San Francisco, while Griffin worked at Jet.com in the New York area, before they started Nifty in 2018.
Duncan now owns about 300 nifties, and his brother — 100. While most people currently don't even know what the word means, the two sets of twins hope that will change.
"All great companies, all great ideas there's a period where you see a truth and many other people don't, and you have to have that conviction," Tyler Winklevoss said.
Bloomberg
Source: Thanks smh.com