Jetstar considers January flight cancellations to deal with pilot strike
Jetstar is preparing to make major flight schedule changes through January in anticipation of pilot strikes continuing into the new year, as it braces for pilots to walk off the job this weekend.
Customers remain in the dark about whether their flights will be cancelled or significantly delayed during pilots' four-hour stopwork meetings this Saturday and Sunday, with the Qantas owned budget carrier still finalising how it will operate through the strike.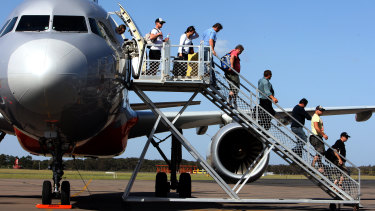 At the same time around 250 Jetstar baggage handlers and ground crew will hold two two-hour stopwork meetings  at various times on Friday at Sydney, Melbourne, Avalon, Brisbane, Cairns and Adelaide airports.
Australian Federation of Air Pilots members, who make up around 80 per cent of Jetstar's mainline pilots, will walk off the job for four hours on Saturday and Sunday amid stalled wage negotiations.
Sources who spoke on the condition of anonymity said Jetstar management was planning changes to its January flight schedule by moving or not operating services to minimise disruptions should the pilot strike continue.
Jetstar is yet to tell customers if any flights will be cancelled, or how services will be affected, with a decision expected by the end of Wednesday.
"There's a lot of detailed work required to comb through the schedule and work out how we can best minimise impact to customers," a Jetstar spokeswoman said.
"That work will be finished by the end of tomorrow and we'll contact customers directly if there is a change to their flight."
Union pilots who fly Jetstar's narrow-body aircraft, which are mostly used on domestic routes, will not operate flights out of their home base between 5am to 9am on Saturday December 14 and Sunday December 15.
International pilots will not operate Boeing 787 Dreamliners from their home base between 2.30pm to 6.30pm on Saturday or between 9.30am and 1.30pm on Sunday.
The pilots' union has said it will not take any industrial action between December 20 and January 3, with the potential to resume strikes after that. Pilots have voted to approve action, including stopworks, of up to 24 hours.
AFAP executive director Simon Lutton said he hoped Jetstar would resume negotiations working towards reaching an agreement so it did not have to consider further strike action in January.
"We remain ready, willing and able to negotiate an agreement which balances the needs of both Jetstar and the Jetstar pilots," he said.
Jetstar has said customers whose flights are cancelled or delayed by more than three hours will be put on another flight or offered a refund, and those stuck away from home overnight will be offered accommodation.
Customers due to fly between December 14 and 20 can move their flights forward at no extra cost and also request a refund.
More to come
Source: Thanks smh.com