Stocks slip in light trade as investors await trade war signals
The ASX has edged lower amid banking and real estate sector weakness, as investors await the outcome of the UK election and monitor trade talk developments.
Tuesday was a quiet day on the stock market with below average volumes of 470 million. The S&P/ASX 200 index closed 0.4 per cent lower at 6705, erasing the gains made on Monday.
Global sharemarkets are in a "holding pattern", as traders wait for two crucial deadlines to pass later this week.
The first comes on Friday morning Australian time, when results of the British general election will be announced. And the second comes on Sunday, when US and Chinese trade negotiators reach their own deadline for striking a deal. If they cannot agree on new trade conditions the United States has vowed to impose further tariffs on about $150 billion of Chinese imports, which would send markets into a tail spin.
"December 15 is approaching quickly, and I still believe that an interim trade agreement is possible, but maybe not probable before then," said Jeffrey Halley, senior market analyst for Asia Pacific at OANDA.
"Given the tortuous path that has been walked to even get to this point, I dread to think of what will be required to reach a comprehensive one. An interim trade agreement, it should be noted, only keeps the lights on in the global economy, and even that is not guaranteed. With monetary policy reaching its limits in so many parts of the world, the phrase "every man for himself" could well be a theme of 2020."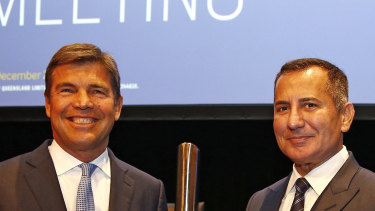 The materials sector was buoyant as speculation surrounding increased Chinese infrastructure investment saw iron ore prices surge to fresh highs. This boosted Australia's mining stocks with BHP Group gaining 1.1 per cent, Rio Tinto lifting 1.3 per cent, South32 climbing 1.9 per cent and Fortescue adding 1.2 per cent. Lithium producer Orocobre closed 3.7 per cent higher at $2.53.
The real estate sector was the worst performer, with a fall of 1 per cent, but it was financials that took the most points away, with a 0.4 per cent decline. This was largely due to a 1.5 per cent decline in National Australia Bank to $25.03, taking it back down to the seven-month lows reached during last Tuesday's sell-off.  Shares in Bank of Queensland fell a further 2 per cent to $7.30, its lowest price since January 2013.
Source: Thanks smh.com