Surprise return of former a2 Milk chief wins investor backing
A2 Milk's decision to install former chief executive Geoffrey Babidge as interim CEO after the sudden departure of Jayne Hrdlicka has been applauded by investors amid hopes disruption from the shock management change will be minimal.
Andrew Mitchell from long-term investor Ophir Asset Management said while leadership changes created a degree of uncertainty around strategy, Mr Babidge's appointment, along with clarity from a2 around the balancing of growth and margins delivered confidence.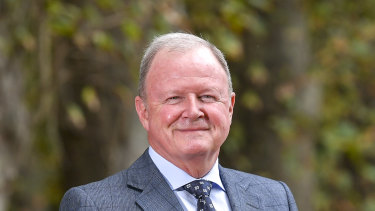 "Ideally we would like Geoff [Babidge] to continue in the role for many years given his history with building the business. A2 is a very unique business that is difficult to recruit for," Mr Mitchell said.
"However, it is in a fortunate position of being highly profitable and fast-growing and will be able to attract top executives from within the global fast-moving consumer goods market," he said.
A2 Milk stunned the market on Monday when it announced Ms Hrdlicka, who had been CEO for just under 18 months, had stepped down.
In a statement a2 cited Ms Hrdlicka's rising travel demands as the reason for her departure.
Later that day she said there had been "unforeseen changes in my personal circumstances in the very recent past and they must take priority".
It is also believed that a2's board was concerned about the pace of Ms Hrdlicka's push to increase investment in marketing to boost a2's growth in China and the US, given the effect it would have on earnings margins.
The company has said it would consider internal and external candidates for the role. Company chairman David Hearn said on Monday he was confident a new CEO would be announced before the end of the current financial year.
Ideally we would like Geoff to continue in the role for many years given his history with building the business.

Andrew Mitchell, Ophir Asset Management
Tobias Yao, portfolio manager at Wilson Asset Management, said Mr Babidge had a strong track record and was very familiar with a2 and its markets.
"He'll slot in very easily. So I don't think there's a disruption, relative to other instances where there's a sudden departure of the CEO," he said.
"The key thing is that Geoff … is the key reason why a2 has been so successful," he said.
Mr Yao expressed confidence that a2 could keep gaining market share in the infant formula market.
While the choice of next CEO would be a decision for the board, Mr Yao said he would like it to be "someone who could really maximise a2's brand value. They (a2) have a very very strong brand in China and a growing brand in the US."
The next leader needed to be someone who could manage a global business, had consumer goods experience and came equipped with strong knowledge of the US and China markets.
In August a2 forecast full-year EBITDA (earnings before interest, tax, depreciation and amortisation) margins of 28.2 per cent for 2019-20. The forecast was well below consensus and a2's shares plunged 13.2 per cent on the day.
Three months after the August guidance Ms Hrdlicka told a2's annual meeting that it now expected EBITDA margins of 29-30 per cent for 2019-20, citing stronger prices, a fall in the cost of goods sold and favourable foreign exchange movements.
It is understood that Mr Hearn has told investors of the board's wish to deliver EBITDA margins above 30 per cent. He has also spoken of the need to have a balance between investment and margin.
Shares in a2 rebounded on Tuesday, up 3.1 per cent to close at $14.40.
In a note to clients UBS analyst Ben Gilbert maintained a buy rating on a2. Mr Gilbert said it was clear from an a2 investor call on Monday that it was targeting "ongoing EBITDA margins of at least 30 per cent medium term".
Source: Thanks smh.com