Workers compensation watchdog to be replaced
The chief of the independent watchdog for the workers compensation scheme, Kim Garling, will leave the job on Friday.
Mr Garling was appointed as the inaugural Workers Compensation Independent Review Officer in 2012 to deal with complaints about workers compensation insurers, to review decisions about an injured person's capacity to work and to conduct independent reviews of the system.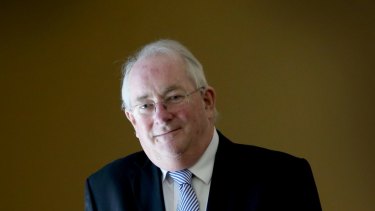 Mr Garling confirmed the NSW Government has decided to appoint a new person to the job for a five-year term. The decision was made at a cabinet meeting on Monday.
"I was not reappointed," Mr Garling told The Sydney Morning Herald.
In an email to colleagues sent just after 4pm on Tuesday, Mr Garling said: "I have been informed today that the government has not re-appointed me for a further term. I am not aware of the person who will replace me."
The Herald understands that Attorney-General Mark Speakman will announce Mr Garling's replacement as early as Wednesday.
NSW Labor spokesman for Finance Daniel Mookhey said the removal of Mr Garling from the WIRO was a "brutal show of force by a government determined to silence anyone who speaks truthfully about the failings of the NSW workers compensation system".
"Injured workers will be aghast to learn that the only independent advocate left to help them navigate a harsh and punitive workers compensation system has not been reappointed.
"The Minister must immediately explain his extraordinary decision. He must guarantee that WIRO will remain an independent voice for injured workers."
NSW Greens MP David Shoebridge described Mr Garling as a "genuine honest broker".
"And that hasn't always made him popular with the government," he said.
Mr Garling said he was proud of the achievements of his staff who had helped injured workers.
"The results have been astonishing with insurers admitting errors sometimes of $70,000 or more," Mr Garling said.
"One of the very important functions was to make frank and positive comments about how the workers compensation system operates and I have been prepared to highlight areas where the system has not been successful in providing fairness for workers.
"I have put forward recommendations for improvements over my term. I was delighted when the Minister for Customer Service indicated that the Government would support the expansion of the WIRO office and its functions to provide a similar role for those persons injured in motor vehicle accidents."
The WIRO has been recognised internationally for its approach to the quick and efficient resolution of disputes.
"No other office has provided welcome relief for injured workers as quickly and cheaply as my staff have done," Mr Garling said. "I wish the new WIRO well."
WIRO, the only independent office that reviews complaints from injured workers in dispute over their compensation claims, last year faced the threat of closure.
The NSW Law Society and Unions NSW argued for its retention and urged the state government to maintain a transparent dispute resolution process.
Attorney-General Mark Speakman said a new WIRO officer will soon be appointed following a competitive application process.
"Any allegation that Mr Garling is being punished is ridiculous," Mr Speakman said.
"Applicants for the role were assessed and interviewed by a highly-qualified selection panel who then provided impartial advice for consideration by government.
"I thank Mr Garling for his valuable contributions over his many years of service and wish him all the very best for his future endeavours."
Source: Thanks smh.com