'Enduring' aims: Nitro's shares fall in trading debut after $100m IPO
Digital document management startup Nitro says it's setting up for long-term growth after ending a string of failed company IPOs in the Australian sharemarket with its $110 million initial share sale.
Its trading debut wasn't as strong as investors would have liked though, with the stock falling as much as 7 per cent to $1.59 within the first half hour of trading on the ASX, down from its $1.72 IPO price.
Chief executive officer Sam Chandler said before trading started that "the [share] price we achieve on day one is not that relevant to us — we took that attitude throughout the entire process."
"We would like to be an enduring public company," he said on Wednesday morning.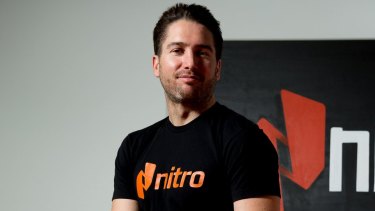 Nitro was founded close to 15 years ago by Mr Chandler and Richard Wenzel in Melbourne. The company has since moved to San Francisco in its pursuit of big name clients for its business digitisation tools.
The IPO was the first significant chance for the founders to crystallise the value they held in the company. At completion of the offer, Mr Chandler was set to own 9.2 million shares, or 4.9 per cent of the company, worth $15.8 million at the offer price.
Nitro raised $110.2 million in the initial public offering, selling its shares to investors at $1.72 apiece. Some of its earliest backers remain major shareholders. Upon listing, the Starfish Technology Fund owned a 13.8 per cent stake, while Battery Ventures owned 13.2 per cent. Mr Wenzel and Mr Chandler reach retained stakes of around 5 per cent.
The business is predicting revenue of just over $40 million for the 2019-20 financial year but is yet to turn a profit, having run at a net loss of $7 million last year.
Proceeds from the share sale are set to go towards amping up marketing and improving its product offering with better use of machine learning, Mr Chandler said.
Nitro lodged its prospectus after a string of companies pulled their IPOs on the ASX in recent months, including PropertyGuru and Boost Juice operator Retail Zoo.
Mr Chandler said the fickle market conditions had "raised the anxiety" but the company was confident it presented a long-term investment opportunity as businesses the world over look to transition the signing and managing of documents to digital systems.
While now based in the United States, Mr Chandler said Nitro was better suited to the ASX than Wall Street as Australia had a longer-term focus and the company could avoid the "merry go round" of quarterly reporting that technology companies face in the US.
"In Australia, there is a more long-term focus in public markets," he said.
Handling documents digitally has become a multi-billion dollar global industry over the past five years. Nitro's key competitors include tech giant Adobe and Nasdaq-listed Docusign, which turns over more than $US700 million ($1 billion) a year.
Mr Chandler said while there was a range of digital document products at the lower end of the market, the market for business customers "wasn't that crowded".
Nitro counts multinationals including General Electric and Caterpillar among its users, which Mr Chandler said was a big achievement considering the company has not yet spent any significant funds on sales and marketing.
Source: Thanks smh.com