Jetstar cancels 90 weekend flights as pilot strike hits
Jetstar has cancelled 90 weekend flights and rescheduled others in preparation for a pilot strike set to start on Saturday morning.
The budget airline says 80 per cent of flights will operate as scheduled, and other passengers will be accommodated by consolidating affected flights, moving services onto larger aircraft, rescheduling flights and putting passengers on Qantas flights.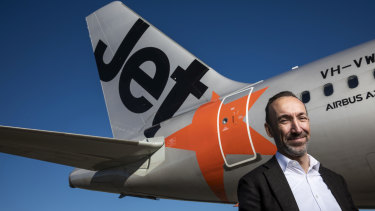 About 5 per cent of passengers will not be able to depart for their destination on the scheduled day, and customers were being notified on Wednesday of any changes to their bookings, the airline said.
Australian Federation of Air Pilots members, who make up around 80 per cent of Jetstar's mainline pilots, will walk off the job for four hours on Saturday and Sunday amid stalled wage negotiations.
Jetstar boss Gareth Evans said 44 flights would be cancelled on Saturday and 46 on Sunday. The airline operates about 370 domestic and international flights a day.
"We know the union's actions are creating uncertainty for travellers," Mr Evans said.
"We remain committed to reaching a new agreement to support the great work our people do every day, but not at any cost."
On top of the dispute with pilots, 250 Jetstar baggage handlers and ground crew will hold two two-hour stop-work meetings at various times on Friday at Sydney, Melbourne, Avalon, Brisbane, Cairns and Adelaide airports.
Union pilots who fly Jetstar's narrow-body aircraft, which are mostly used on domestic routes, will not operate flights out of their home base between 5am to 9am on Saturday December 14 and Sunday December 15.
International pilots will not operate Boeing 787 Dreamliners from their home base between 2.30pm to 6.30pm on Saturday or between 9.30am and 1.30pm on Sunday.
The pilots' union has said it will not take any industrial action between December 20 and January 3, with the potential to resume strikes after that. Pilots have voted to approve action, including stop-works, of up to 24 hours.
Jetstar has said its pilots are demanding a deal that would be the equivalent of a 15 per cent wage increase, which would stop it from being able to offer cheap fares.
However the union says they have only asked for a 3 per cent wage rise, with the 15 per cent figures based on a exaggerated costing of non-salary claims.
More to come
Source: Thanks smh.com