Kim Williams lashes 'low value' rugby union over sense of 'self-entitlement'
Former Foxtel boss Kim Williams has launched a scathing attack on Australian rugby union, describing the struggling code as a "low-value sport" and criticising its administrators for "astonishing self-entitlement".
The comments from Mr Williams, who was chief executive of News Corp's pay-TV service for a decade until 2011, come amid pressure on the leadership of Rugby Australia as it prepares for critical talks with broadcasters over its next television rights deal.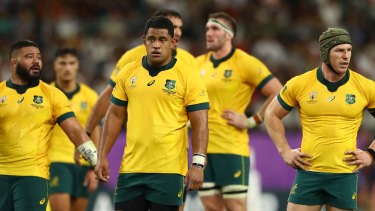 "The issue with rugby that's a challenge is the sense of self-entitlement from rugby itself," Mr Williams said in an interview on Wednesday with The Sydney Morning Herald and The Age. "Rugby seems to deem itself as inherently worthy and therefore deserving of mountains of money and that's a major difference to the reality."
The Sydney Morning Herald and The Age last month revealed rugby's long-running broadcast partner Foxtel had withdrawn its offer to renew rights to the Super Rugby competition and Wallabies Test matches.
Rugby Australia is expected to take the rights to an open tender in January – a move that has upset senior figures at Foxtel. Mobile carrier Optus, which snatched key soccer rights away from Foxtel, is considered a strong contender.
The uncertainty over the rights comes at a critical juncture for rugby, which is reeling from the Israel Folau homophobia saga, poor performances by the Wallabies and waning broader interest in the code.
NSW Waratahs chairman Roger Davis this week warned the Australian Super Rugby sides would go broke unless Rugby Australia chief executive Raelene Castle delivered an uplift on the code's existing deal, worth $57 million a year.
"The real value [is] in Tests and the Bledisloe [Cup] but for the major mainstream … it's a low-value sport. Rugby refuses to acknowledge this," Mr Williams said.
Senior Foxtel sources said the pay TV giant had not yet decided whether it would attempt to secure the rights via the open tender next year.
Sources close to Rugby Australia defended Ms Castle's approach to the talks, noting a new climate of regulatory scrutiny over sports rights deals. "She's doing the right thing by the majority of fans by taking a stand," said one high-level source who couldn't speak publicly due to the confidential nature of the talks. "It's easy for people to attack her".
Former Tennis Australia directors Harold Mitchell and Stephen Healy have been taken to court by the Australian Securities and Investments Commission over allegations relating to the Australian Open rights, which in 2013 were renewed with Seven and not put out to tender.
The high-stakes court case had been looked at closely by all sporting administrators and anything short of a "blow your socks off" offer was now much more likely to get knocked back, the source said.
Mr Williams said Foxtel's "no-nonsense approach" was reasonable. "The sport lives in another zone from where the fans are," he said.  "You can't blame people for having a realistic view [on the value of the rights] … I'm sympathetic to the broadcasters."
Paul Anderson, the chief executive of Ten Network which airs Wallabies Tests as part of a simulcast deal with Foxtel, issued support for Rugby Australia and Ms Castle. "We have a terrific relationship with Raelene and Rugby Australia," he said.
Mr Clyne said Rugby Australia remains hopeful of striking a deal with Foxtel.
"2020 is an important year with the broadcast rights negotiations underway and we remain in dialogue with our long-term partner Fox Sports as we aim to deliver the strongest levels of coverage for all of our competitions over the next five-year cycle."
Source: Thanks smh.com