ASX drops despite big Asian gains as tech, telcos hammered
Despite a late rally on Wall Street and strength in Asian markets, Australian shares fell heavily on Thursday, giving back much of Wednesday's gains.
The benchmark S&P/ASX 200 slid 43.8 points, or 0.7 per cent, to 6708.8, dragged lower by steep falls across a majority of sectors.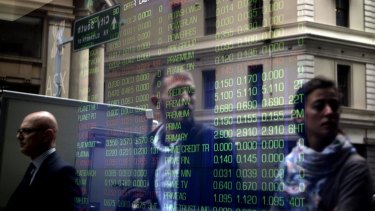 Telecommunications led the losses, slumping 1.7 per cent. REITs and technology also shed more than 1 per cent for the session, the latter reflecting continued steep falls in the so-called "WAAAX" stocks.
The weak local market contrasted with strong gains across Asia, as investors cheered comments from US Federal Reserve chair Jerome Powell indicating the bar for interest rate hikes in the year ahead is high in the absence of a sustained increase in inflationary pressures.
"There were no fireworks from the Fed but the message was clear – rates are not going anywhere anytime soon," J.P. Morgan Asset Management's global market strategist Kerry Craig said.
"The accommodative stance should still offer support to equities in the coming year, particularly as the Fed's stance allows other central banks to pursue easier monetary policy."
The Fed's commentary not only helped to boost regional markets but also the Australian dollar, which climbed to a one-month high of US68.80¢, perhaps contributing to the poor performance of local shares.
Caution ahead of the UK general election and European Central Bank (ECB) monetary policy decision later in the session, along with little clarity as to whether planned US tariff increases on Chinese goods from December 15 will go ahead, may have also been contributing factors.
By individual stock, Lynas Corporation was the standout performer, surging 9.7 per cent to $2.37 on speculation the US Army may help to fund the construction of a rare earths processing facility. Gold miner Silver Lake Resources also had a good day, lifting 5 per cent to $1.25. Charter Hall Group jumped 4.7 per cent after announcing a raft of acquisitions and an earning guidance upgrade.
ALS Limited, one of the top performers on Wednesday, ended up suffering the largest decline on the benchmark index, sliding 5.1 per cent to $8.95. Webjet, anther standout on Wednesday, also reversed course with a fall of 2.6 per cent to $12.45. Mirvac and Abacus Property Group fell 2.9 and 2.7 per cent respectively to $3.63 and $3.28.
Source: Thanks smh.com