Westpac's Maxsted vows to improve culture amid 'shock, disappointment and concern'
Westpac chairman Lindsay Maxsted has apologised to shareholders over the money laundering scandal that has engulfed the bank, admitting the lender has more to do to enhance its culture and improve its systems to fighting financial crime.
Addressing investors at the bank's annual general meeting in Sydney, Mr Maxsted said that since the laundering scandal was revealed last month, shareholders had expressed their "shock, disappointment and concern" to him.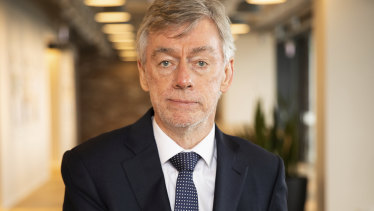 In response to the bombshell lawsuit, which included allegations the bank facilitated payments for child exploitation, Mr Maxsted said the bank took responsibility for mistakes that led to this scandal. Mr Maxsted said the board was "deeply distressed" by the child exploitation claims, and every part of the company had  been shaken by the events of the last few weeks.
"In particular, as a Board and as individuals, we are devastated that anyone may have been exposed to the risk of harm as a result of a failing by Westpac. For this, we are truly sorry," Mr Maxsted said in his opening address.
Mr Maxsted pointed to an $80 million program to boost its financial crime capability that was unveiled following the scandal, adding "but clearly, we have more to do."
"In the wake of AUSTRAC's allegations, the Board and management team are fully committed to taking all steps necessary to urgently close any remaining gaps, and complete the Financial Crime Strategic Plan," he said.
Mr Maxsted said a key question put to him by shareholders was whether the AUSTRAC scandal reflected a broader cultural problem, and he admitted there was also more to do on this front.
Referring to past misconduct in is wealth management business that was scrutinised by the royal commission, Mr Maxsted pointed to a past review that had shown inadequate treatment of "non-financial risks." He said the bank was also trying strengthen its "speak up culture," but there remained more to be done.
"A company's culture is something that requires constant review, and I want to assure you we are taking this seriously and will reassess our approach as we learn more from the findings of the external reviews that I have talked about," Mr Maxsted said.
The banking giant has endured a tumultuous few weeks since it was last month hit by a lawsuit from the financial intelligence agency AUSTRAC, which alleged it breached anti-money laundering laws 23 million times.
The bombshell claims sparked a boardroom crisis, with big investors pushing the bank's directors to dump former chief executive Brian Hartzer and forcing the early resignation of Mr Maxsted, who will step down in the fist half of next year. Ewen Crouch, chair of risk and compliance committee, also cancelled his plan to stand for re-election to the board as a result of the crisis.
The board had been under heavy pressure in the lead-up to the AGM, with two leading proxy advisers recommending shareholders vote against the re-election of longstanding director Peter Marriott. However, several major super funds, and proxy advisers Ownership Matters and the Australian Council of Superannuation Investors (ACSI) have supported Mr Marriott's re-election, saying he is the only director with extensive experience in banking.
Interim chief executive Peter King outlined steps the bank was taking in response to the AUSTRAC scandal, while saying 2019 had been a "disappointing" one for the bank in financial terms.
The bank's cash profit fell by 15 per cent in the year and it cut its dividend for the first time since 2009, and Mr King said the the bank expected operating conditions to remain "soft" as interest rates were low, it faced higher costs, and regulatory scrutiny remained intense.
"I don't underestimate the size of the task ahead. I'm grateful going into this knowing I have the 35,000 people of Westpac behind me," Mr King said.
Source: Thanks smh.com