ASX ends week higher on global growth hopes
Australian stocks were among the first to respond to news of a trade deal between the US and China including tariff cuts, and exit polls showing a landslide victory for the Conservative party in the UK.
Hopes of economic stability and global growth pushed up Australian banking and mining stocks and the stock market closed higher on Friday.  However, ASX gains of 0.5 per cent were modest compared to rises on the Japanese market of 2.6 per cent and 2.2 per cent in Hong Kong.
The probability of an RBA interest rate cut in February next year also tumbled from 60 to 42 per cent, according to interbank futures.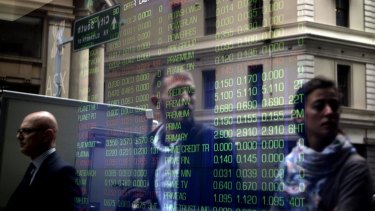 "There's still a case for easing next year but the RBA may be tempted to push back given the global economy is looking better," JP Morgan Asset Management's global market strategist Kerry Craig said.
Australian benchmark 10-year bond yields spiked to a one-month high of 1.26 per cent as expectations of a rate cut fell.
The Australian dollar benefited from not only the lift in bond yields but also gains in commodity markets, jumping as high as 69.38 US cents, a level last seen in late July. The Chinese yuan increased to four-month highs as the prospect of tariff cuts negated the need for a weaker currency.  The euro also fell sharply against the pound, hitting a low of 82.78 pence, its weakest level since July 2016.
The S&P/ASX 200 index closed 30.8 points higher on Friday at 6739.7 points, a one-day gain of 0.46 per cent and a one-week gain of 0.5 per cent.
Trading was heavy in the banks with Commonwealth Bank rising 0.4 per cent, Westpac rising 1.6 per cent, Australia and New Zealand Bank rising 2 per cent, and NAB rising 1.4 per cent.
BHP Group gained 1.9 per cent, Rio Tinto gained 1.6 per cent, and BlueScope Steel gained 5.2 per cent. However, gold miners dived with Silver Lake Resources falling 9.2 per cent, Evolution Mining falling 7.8 per cent, Gold Road Resources falling 7 per cent.
Lynas Corp closed 8.8 per cent higher at $2.58 on expectations it could win a US defence contract, although it briefly halted trading to confirm it has not yet won the tender.
Information technology also outperformed the market on Friday, largely due to a 3.2 per cent gain in Computershare and a 5 per cent rise in Link Administration.
Source: Thanks smh.com