Boris win, US-China trade deal lifts market's fog of uncertainty
The fog of uncertainty that's hindered the global economy for much of the past two years began to lift on Friday, helped by reports of an eleventh-hour trade deal between the United States and China and a thumping Conservative victory in the UK general election.
"The landslide win for the UK Conservative party is grabbing a large share of attention, but far more important for the world economy and markets are media reports that the US and China have agreed on a phase one trade deal," Nomura's head of global market research Robert Subbaraman told clients.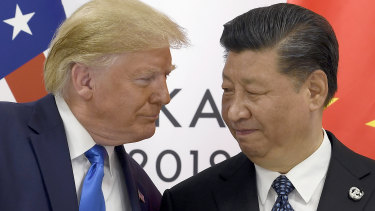 While details of the trade agreement are yet to be released, numerous media reports, citing sources involved in the negotiations, suggest it involves China purchasing $US50 billion  ($72 billion) worth of US agricultural products next year, commitments to protect intellectual property rights and a pledge to not engage in currency manipulation in return for the US halving tariffs already in place along with abandoning planned duty increases scheduled for December 15.
"We suspect China has agreed to much more than just increased US agricultural purchases," Mr Subbaraman said. "The surprise to watch here could be China buying a lot more US oil and gas."
With signs recent monetary policy easing from major central banks is starting to have an impact, AMP Capital's chief economist and head of investment strategy Shane Oliver said the news should help to further improve economic conditions, including in Australia.
"The de-escalation is good news for now and takes some pressure off the global economy which makes it good news for commodity prices and Australia," Dr Oliver said.
However, some believe the trade breakthrough may prove to be a double-edged sword for the local economy given an improved trade environment may lessen the need for Chinese policymakers to stimulate their economy.
"We're not expecting China to suddenly jump on the gas and reinvigorate its economy," JP Morgan Asset Management's global market strategist Kerry Craig said. "I wouldn't be surprised to see a Chinese growth number with a '5' in front of it next year. That means slower growth and slower demand for commodities. The implications are pretty clear for Australia in that case."
While financial markets reacted positive to the trade news, seeing global stocks hit record highs and other assets closely aligned to the performance of the global economy such as commodities and the Australia post strong gains, doubts persist as to whether a more comprehensive deal to tackle Chinese state subsidies and enforcement of intellectual property theft will be reached in the short to medium term.
"This is just a temporary period of relative calm," said Ben Powell, chief Asia-Pacific investment strategist at the BlackRock Investment Institute. "We believe the tensions between the US and China are structural and persistent and will last for years and maybe even decades."
Westpac Bank head of financial market strategy Robert Rennie is another who is sceptical about a more comprehensive trade agreement being reached in the short to medium-term.
"The idea that we move to a phase two or three, I just can't see where that comes from given how long it's taken phase one to materialise," Mr Rennie said. "The obvious issues Trump faces next year from a political point of view makes me think markets are too optimistic."
Despite the Conservative's resounding victory in the UK general election, paving the way for Britain to leave the European Union on January 31, uncertainties remain as to whether it can reach a trade deal with the EU.
"These could still end in a hard exit if no free-trade agreement is reached," Dr Oliver said. "But the threat of economic disruption will likely work against that given the UK will be officially out of the EU and Boris Johnson looks like he won't be held back by hard-line Brexiteers in the talks."
Source: Thanks smh.com