Lithium miner slashes ore price further amid plummeting global demand
West Australian lithium miner Mineral Resources has slashed a further US$88 off its spodumene concentrate price in a sign the lithium glut has not yet ended.
In a statement to the market on Friday, Mineral Resources advised investors the sale price for the 6 per cent spodumene concentrate shipments from its Mt Marion mine in the WA Goldfields for the December quarter would be US$520.92 per dry metric tonne.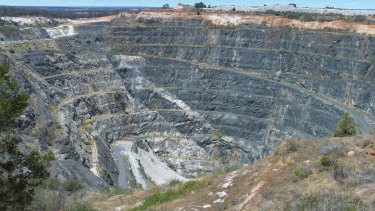 This is a US$88 drop compared to US$608.95/dmt for the September quarter.
Spodumene concentrate is used in the production of lithium, one of the main components used in lithium-ion batteries.
The lithium price has been in freefall since 2018 when new product saturated the market from new mines and global demand from lithium-hungry electric vehicles slowed.
Mineral Resources' announcement represented a whopping US$550 drop in price for its product since the 2018 September quarter, but the company insisted Mt Marion remained a "profitable and highly valuable long-life lithium asset."
Minelife senior resources analyst Gavin Wendt said the price drop represented a continuation of market weakness over the past 12 months, driven by a growing imbalance between underlying demand and growing supply.
"Chinese authorities have this year scaled back subsidies for electric vehicles, reducing the rate of growth in EV purchases in their domestic market," he said.
"At the same time, the supply side has been growing in volume, pushing more product into the market.
S&P Global Market Intelligence predicts production of lithium will triple by 2025 to more than 1.5 million metric tons, with 400,000 of those coming from Australia.
Source: Thanks smh.com