Pilots push back on Qantas' pressure over ultra-long haul flight deal
Qantas pilots say they won't be pressured into accepting a wage deal for non-stop flights to London and New York, which is the last stumbling block for chief executive Alan Joyce after the airline settled on Airbus' A350-1000 as its preferred ultra long-haul aircraft.
Mr Joyce said on Friday the Civil Aviation Safety Authority had indicated it would approve the flights of up to 21 hours, which left extracting "efficiency gains" from pilots as the last obstacle to launching the longest commercial flights in aviation history.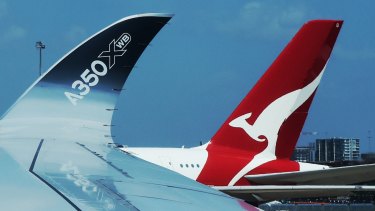 Ultra long-haul flights are a key part of Qantas' long-term strategy, giving it a unique advantage over competitors and allowing it to charge higher fares for travellers who want to avoid a transit stop.
Qantas intended to make a decision on whether to go ahead with its so-called "Project Sunrise" by the end of 2019 but has pushed that deadline back to March 2020 as it negotiates with pilots over pay and conditions.
Those negotiations will determine whether Qantas spends about $3 billion on an order of up to 12 A350-1000s to operate the flights, invest that capital in other parts of its business such as its booming loyalty arm, or return it to shareholders through further buybacks and dividends.
"We're offering promotions and an increase in pay but we're asking for some flexibility in return, which will help lower our operating costs," Mr Joyce said.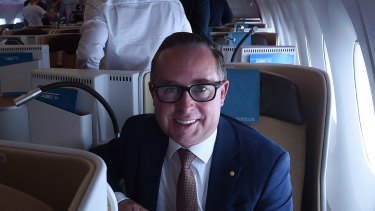 However, the Australian and International Pilots Association said Qantas' productivity targets were difficult to achieve so soon after pilots accepted a 30 per cent concession in 2015, which was tied to an order of Boeing 787 Dreamliners, and pilots would not accept some terms in the most recent proposal.
This included new pilots being on a lower pay scale, said pilot and APIA negotiator Adam Susz. He said the airline was overstating the importance of pilot costs in the business case.
"We're talking about a small percentage change to a small component – so we don't see how this is really such a make or break decision," he said.
Mr Susz said the union believed it could reach an agreement that delivered a fair outcome for pilots and meet Qantas' business requirements within its new deadline, and the selection of an aircraft type made negotiations simpler.
Airbus has given Qantas until March to place an order for the new jets if it wants them delivered in time to start flying in the first half of 2023.
S&P director of corporate ratings Graeme Ferguson said the business case for Project Sunrise probably never stacked up, and that Qantas was now trying to blame its pilots for it falling over.
"Management successfully juiced two and a half years' worth of PR gimmicks that distracted from Qantas' chronic fleet underinvestment," he said. "Now pilots will be cast as villains. You have got to admire the gall."
A wage proposal Qantas presented to union negotiators this week and seen by the Sydney Morning Herald and The Age shows the airline wants to use a common pool of pilots trained to fly both the new A350s and its existing A330s, which operate around the Asia Pacific.
Having a pool of pilots who can fly two aircraft to types, or "multi-variant flying", gives an airline more scheduling flexibility and improved efficiency.
Cost "offsets" would also come through the removal of some "night credits" – a type of loading for long flights – and overtime pay rate passed 12 hours being cut from double-time to time and a half.
Australia's Civil Aviation Safety Authority needs to approve the flights of up to 21 hours, and Qantas said on Friday the regulator had "provisionally advised" that it saw no issues with pilot fatigue management on the new routes.
However AIPA remains concerned about pilot fatigue on the ultra-long flights, and said the lack of a "public and transparent position" from CASA made negotiations more difficult.
Airbus's A350-1000 beat out the plane Boeing proposed to Qantas for the project, its yet-to-fly 777X-8, after a two-year competition between the two aircraft manufacturers.
Source: Thanks smh.com