Sydney 'front and centre' of burgeoning co-living trend
The Australian market for co-living – a 21st century spin on boarding houses or flat sharing – has more than trebled in the past year and Sydney is "front and centre" of the emerging trend.
The demand is driven mainly by younger people struggling with the high cost of housing close to jobs, while the expansion of co-living chains such as UKO and Hmlet across Sydney is driving supply.
Figures from rental management software company The House Monk show the co-living market in Australia was worth $US5.1 million ($7.4 million) in 2019, up from $US1.4 million in 2018. There are about 500 residents, mostly in Sydney, up from 140 in 2018.
The House Monk chief executive Ajay Kumar said UKO was developing a project in Melbourne and he expected Hmlet to make a move there as well. "But for the time being, Sydney is front and centre of co-living in Australia," he said.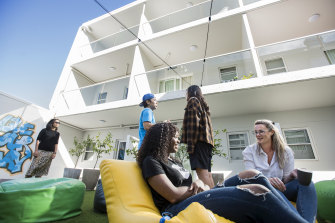 In Australia, co-living residents pay an average of $1200 a month, which gives them a room or suite, access to common areas and optional communal activities. Most larger co-living sites are regulated in Australia as boarding houses, while some are share houses with three or four residents that are professionally managed.
Hmlet managing director Chrystan Paul said co-living met the trends of modern-day society and the modern renter.
"The idea of a share house is something that's been done pretty naturally but what we've been doing is creating a level of professionalism and a higher level of service within that context," Mr Paul said. "We're seeing a massive shift with our members that they will acquire experiences over material assets, so why is it that in Australia regular accommodation isn't furnished?"
The concept was first introduced to Australia in 2017 and there are now 10 operators. Singapore's biggest co-living operator Hmlet entered the market in February this year with a takeover of Caper Coliving and now has five sites across the inner west, plus Bondi, Paddington, Balgowlah and Mays Hill near Parramatta.
UKO, a chain started by Australian entrepreneurs, has two sites in Sydney, in Stanmore and Paddington, with three more due to open in 2020.
The House Monk's Global Coliving Report 2019 estimates 2.9 million people around the world are living in co-living spaces. The analysis excludes short-term rentals and facilities such as boarding houses where the operator only provides accommodation and does not add any services or community to their offering.
The report says the global co-living market is worth $US7.5 billion and will grow to $US100 billion within a few years. China accounts for 80 per cent of the market, followed by India, Europe and the United States.
Lachlan Sloan, founder of New Zealand-based Communita, said Australia's co-living sector was "off to a slower start when compared with much larger markets". The obstacles to growth in Australia were the restricted access to venture capital and the lack of an established build-to-rent sector – that is, where property developers own and manage a building after construction rather than selling apartments to investors and owner-occupiers.
However, Mr Paul said he did not need the build-to-rent sector because there were enough boutique developers and private investors interested in the concept.
Source: Thanks smh.com