British billionaire looks to buy Alcoa's Portland aluminium smelter
London: British billionaire Sanjeev Gupta is considering buying the Portland aluminium smelter in Victoria as part of a global expansion that could save the Australian facility from likely closure.
The fate of Alcoa's worst-performing operation has been under a cloud for months amid warnings a shutdown would threaten hundreds of jobs and have major flow-on effects for the power grid given the facility uses about 10 per cent of the state's electricity.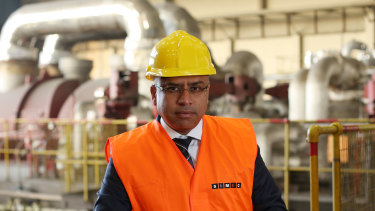 The US-based Alcoa unveiled plans in October to sell up to $1 billion of assets as well as closures of facilities around the world in a drive to boost its bottom line and cut greenhouse gas emissions.
Gupta's Liberty House Group has been in preliminary discussions with Alcoa and other stakeholders, including the Victorian government, over recent weeks about purchasing the plant as part of the steel giant's growing push into the aluminium sector.
The Indian-born magnate came to Australian attention when he purchased South Australia's stricken Whyalla steelworks and saved it from potential closure.
The Liberty House Group already owns two smelters: one in Fort William, Scotland and the other in Dunkirk, France, which was purchased from Rio Tinto for $US500 million in 2018. The French facility is the largest in Europe.
Union officials representing Alcoa staff in October vowed workers would do all they could to save the plant from closure, including the possibility of accepting wage freezes.
"Alcoa closing in Portland would be devastating to the south-western Victorian economy," Ben Davis, the state secretary of the Australian Workers Union, said.
"The AWU is always committed to doing anything it can to keep Alcoa operating in Portland."
The plant has already received $230 million in state and federal subsidies but still posted $US20 million in losses in the first half of 2019. Powered by brown coal from Victoria's Latrobe Valley, the plant is also a heavy carbon emitter.
The negotiations between Liberty House Group and Alcoa are continuing but it is understood a deal is not guaranteed.
The Sydney Morning Herald and The Age revealed in August that Gupta's GFG Alliance had made an informal approach to a joint Commonweath/South Australian taskforce about the possibility of a public debt guarantee for the Whyalla facility following the Morrison government's re-election in May.
Source: Thanks smh.com