Local stocks catch breath after Monday rally
Australia's sharemarket held onto most of the gains made during Monday's rally but failed to lift further on Tuesday. Modest gains across mining stocks and some consumer-facing stocks like Coles and Coca-Cola offset declines, as one of the country's biggest banks, Westpac,  dropped 0.8 per cent in the face of more regulatory scrutiny.
Equity markets around the world started the week in a bullish mood with Wall Street's S&P500 touching fresh highs on Monday and London's FTSE 100 index rising 2.2 per cent.  Traders have enjoyed the certainty provided by a trade deal between the US and China and the UK's election outcome.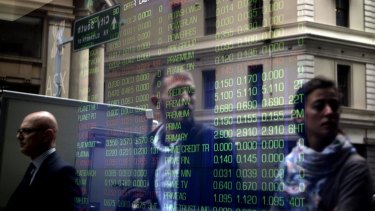 In Australia, the S&P/ASX 200 neared a record-high on Monday, but ended Tuesday's session 2.4 points lower at 6847 points. Volumes were similar to Monday's session.
Virgin Money's roller coaster ride continued, with the stocking falling 6.3 per cent to $3.84. This came after gains of 7 per cent and 8 per cent in the previous two sessions.
Westpac fell 0.8 per cent to $24.64 after the Australian Prudential Regulation Authority announced it would require the bank to hold an extra $500 million in capital as a result of its money laundering scandal and that it's launching a sweeping investigation that could lead to fines or the disqualification of senior managers. Westpac shares are now down 1.6 per cent compared to the start of the year, while the ASX 200 is up 27 per cent.
Smartgroup fell heavily for a second day after analysts downgraded it following yesterday's profit warning, with the stock falling 7.1 per cent to $7.04. At the end of the day, $53 million worth of Smartgroup shares changed hands, well above the average of $7.8 million.
And Lynas Corp ended the day 6.2 per cent lower at $2.42 after telling the market Malaysian regulators had not approved plans to increase its lanthanide concentrate processing limit for calendar year 2019.
The best gains today were in New Zealand telco Chorus, rising 3.5 per cent to $5.86, and IPH Ltd, up the same amount to $8.59. Trading was heavy in Brambles, which closed 1.6 per cent higher after $189 million worth of stock changed hands compared to average daily turnover of $62 million.
Source: Thanks smh.com