Miner chaired by ex-Defence Minister in crisis after Bougainville killing
A company chaired by former Defence Minister David Johnston operating in Bougainville is in crisis after its licences were suspended following the killing of its geologist by "criminal thugs claiming to be landowners".
The Autonomous Government of Bougainville slammed the Mr Johnston-chaired company Kalia Ltd in a statement yesterday for operating in an area in the north of the island where there is a "known criminal resistance" to mining exploration.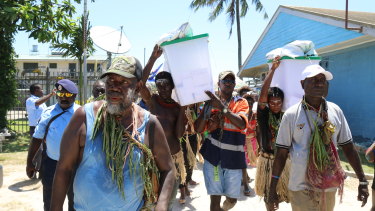 The death of the locally-born geologist Terry Win Kilya will come as a blow to Bougainville where the local people in recent weeks have resoundingly voted in support of a referendum to become an independent country in a peaceful process.
Bougainville is hopeful its future economic prosperity will be underpinned by mining and other large-scale industry such as fisheries.
Concerns about Kalia's activities could lead to the government clamping down on exploration outside of the derelict Panguna mine which was previously operated by Rio Tinto and sparked a civil war that ran for 10 years.
Mr Kilya was killed in Meleup last week. The government have given assistance to Mr Kilya's family, as is common in Melanesian culture. Kalia had originally said Mr Kilya died following a fall on the island.
"It is unbearable to know that the company has insisted to push on with its exploration work on the eve of the referendum period without due respect for this process," ABG president John Momis said in a statement.
"The company has miserably failed to address its social issues and to fulfil its corporate social responsibility as a client of the ABG," he said.
The Bougainville Executive Council has decided to suspend all exploration activities of the company in its tenement areas of EL03/EL04 until further notice.
The executive council has also summoned Kalia and its joint-venture entity Toremana to explain "why such an avoidable incident was allowed to happen in the first instance" the statement from Mr Monis's office said.
Kalia went into a trading halt on Tuesday ahead of making an announcement about the status of its mining exploration licences.
Source: Thanks smh.com