Remote and off the grid: Tiny house travel companies on bushfire alert
With properties hidden away off the grid in remote locations, popular travel startups based out of tiny houses are keeping a careful eye on bushfires.
Startups including Unyoked and Shacky advertise themselves as enabling users to get "easy access to the wild" and promise "getting lost in nature becomes as natural as getting stuck in traffic".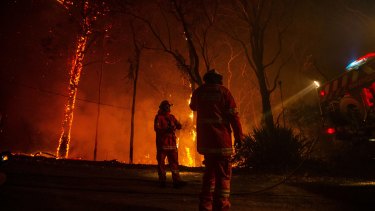 Unyoked raised $1.2 million earlier this year and operates nine cabins across NSW in "secret" locations that are not disclosed to guests until they book.
The startup's cabins are a tiny house of one room with a gas burner, a bed, a small fridge, a composting toilet, a hot shower and solar power. There is no Wi-Fi or television.
The cabins are located where customers can see the stars with no man-made objects in sight.
However, these features, aimed at maximising relaxation, also put the tiny houses at risk of bushfires.
Unyoked co-founder Chris Grant said the startup hasn't had to evacuate any customers as a result of the bushfires.
"Operating in these remote areas we take risk management very seriously and proactively reschedule guests if there's nearby fire danger or heightened risk," Mr Grant said. "It's heart-breaking to see the pain and loss these fires have caused and how widespread they've been this season."
Mr Grant said, so far, Unyoked's properties have been among "the lucky ones", with the rescheduling of stays due to air quality in certain areas the only impact.
"With any wilderness experience, camping or remote farm stay there are different risks than staying at an average Hilton," Mr Grant said. "On top of rescheduling guests during high-risk periods, we also follow a 'leave early' approach once guests are on the ground."
With any wilderness experience, camping or remote farm stay there are different risks than staying at an average Hilton.

Unyoked co-founder Chris Grant
While the startup normally recommends guest unplug from their devices, Mr Grant said the majority of its tiny houses have some mobile reception in case of emergencies and those that don't have a landline on the property.
Shacky, which operates in Victoria, has a similar philosophy to Unyoked, with three cabins in the Yarra Valley, High Country and Grampians.
Shacky co-founder Nicholas Cattle said the startup, which turned over less than $200,000 last year, lets guests "experience what it is to be in nature and connect more with nature and live in a tiny house".
Mr Cattle said Shacky sends messages and communicates with "hosts" who live close to each Shacky and guests about any bushfire risk.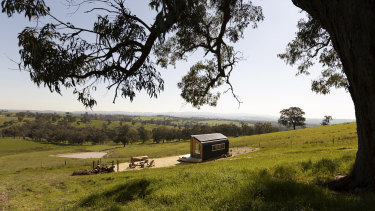 "Last year when it was very hot in January we rescheduled guests just for their comfort, if it is 42 degrees it is not going to be a very comfortable experience," he said. "If we see it is unsecure we cancel their booking and reschedule them."
Mr Cattle said Shacky undertook the same precautions as other travel businesses.
"There might be a chance of not being able to light the firepit which we will explain to them," he said. "We might have foreign travellers that might not understand the importance of it."
Australian Tourism and Transport Forum chief executive Margy Osmond said the impact of bushfires on the industry had seen cancellations in many areas.
"It is really important that nobody goes into these areas where bushfires are to add extra stress but for small rural communities this is the time of year they get the vast bulk of their revenue," she said. "The message we are trying to push out is: don't cancel, check. Ring the local council or rural fire service."
Ms Osmond said the broader issue at stake was how to deal with major weather events brought on by climate change.
"We are having an inkling now of how big the problem can be," she said.
Source: Thanks smh.com