Executives sweat over global instability and climate change: KPMG
Concerns about global instability and climate change have risen dramatically among Australia's business leaders, according to a survey of top executives.
The KPMG Australia survey of almost 200 C-suite executives reveals digital transformation as the top issue keeping them awake, as they look to technology to meet rising customer expectations and cut operating costs.
KPMG economics and tax centre partner Grant Wardell-Johnson said concerns about the geopolitical and economic environment had risen significantly over the past 12 months to debut at number two on its Keeping Us Up At Night list, partly due to the uncertainty around the US-China trade war.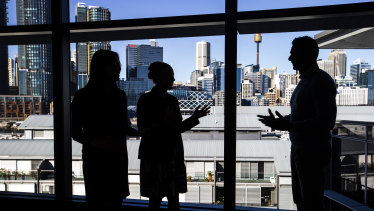 There were also fears around the rebalancing of power and a schism along technological lines that would force them to "pick a side" between the US and China, and work with one and not the other.
"Most fundamentally, there is concern about a decline of economic logic and its replacement by political logic," Mr Wardell-Johnson said.
"The rise in populism and decline in authority of organisations like the WTO are a worry. There is a perceived lack of global leadership and a fall in multilateralism."
Climate change and sustainability ranked 14th on the survey a year ago but jumped to equal fifth, with respondents wanting to see clearer direction from government and business.
KPMG's report on the survey found that companies in sectors not used to thinking about the environment needed to change their mindset and assess risks from both the physical affects of climate change – such as bushfires, storms, drought and rising sea levels – and "transitional risks" to business models from the move to a low-carbon economy.
The ASX, corporate regulators and accounting and auditing boards now consider that businesses need to understand and plan for climate change risks, KPMG points out.
On "digital transformation", KMPG found that business leaders understood the need to reimagine their companies for the digital era by digitising office systems, extracting value from the data they collect, and using technology such as blockchain and artificial intelligence.
But the most ambitious digital transformation drives launched by Australian companies failed, KMPG said, because they are stuck with legacy technology systems interwoven in their operations that prove hard to unpick.
The survey found regulation was the third-top issue of concern, followed by innovation and disruption. Public trust (up to equal fifth place from seventh), leadership, customer centricity, political paralysis and workforce upskilling rounded out the top 10.
Top 10 issues keeping business leaders awake in 2020
1. Digital transformation
2. Global political and economic environment
3. Regulation and regulatory environment
4. Innovation and disruption
=5. Sustainability and climate change
=5. Public Trust
=5. Leadership capability, accountability, stability
8. Customer and citizen centricity
9. Political paralysis and effective government planning and response
10. Workforce upskilling and transformation
Source: Thanks smh.com