GigSuper set to address 'jealousy and anger' over retirement savings
It has taken more than two years longer than Peter Stanhope and his team expected it would take to launch a super fund for the self-employed, and the number of hurdles took the founders by surprise.
"Had we not been solving what we believed was a really meaningful problem, I don't think we would have stuck at it," the co-founder of GigSuper said.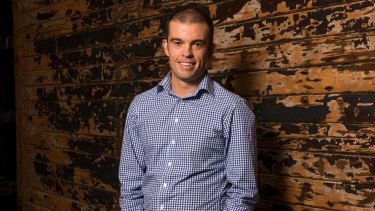 Mr Stanhope and co-founder Martin Batur have tapped high net-worth individuals for around $1 million over the past two and a half years to build a superannuation product for self-employed Australians. The fund will finally open its accounts on January 6.
The launch process has been an education in the complexities of building a retirement-focused fintech from the ground up. Mr Stanhope expected the process would take six months, though soon realised the team would have to partner with administration, insurance and funds management platforms to create products specifically for entrepreneur account holders.
GigSuper encourages this cohort to make super contributions by offering a fee-free savings account and an accumulation account. Members can save money into savings each month and then those funds are swept into their super account each quarter. This means business owners can earmark funds for super each month but have flexibility to contribute less during tougher financial periods.
Self-employed Australians are free to contribute to mainstream superannuation funds but they traditionally have not done so as frequently as their salaried counterparts.
A 2018 report for the Association of Superannuation Funds Australia (ASFA) highlighted that 20 per cent of self-employed Australians have no superannuation savings, compared with 8 per cent of PAYG employees.
Mr Stanhope said in researching the product, the team heard from many entrepreneurs who had strong negative feelings about the difficulties of building a nest egg in a system which gives the best rewards to those with regular contributions of the 9.5 per cent super guarantee, an amount which is often not realistic for the self-employed.
"There are two overwhelming feelings that come across. One is jealousy. Then there's a real anger of 'I've worked so hard all my life, but someone as a traditional employee has this great big retirement balance'. There's an awful lot of anxiety," he said.
The company will join a range of niche super funds that have hit the market over the past year, including those focused specifically at women workers, like FairVine and Verve Super. 
They have launched with the acknowledgement that Australia's superannuation system gives the most advantages to employees who regularly contribute the same amount into their funds each month and never need a career break.
With fees of $78 a year and 0.95 per cent charged on balances, there are more competitive fund options out there, though Mr Stanhope said the appeal of a fund like GigSuper was its structure, and education was focused on entrepreneurs.
The fund also faces the significant challenge of being a new player in a multi-trillion dollar sector.
Rather than fearing the competition, the team hopes more mainstream funds will offer a specific self-employed product.
"It's a huge problem — we'd quite frankly love them to come into the space," Mr Stanhope said.
Source: Thanks smh.com