Lang Walker's $2.7b Parramatta Square project opens door to first tenants
Developer Lang Walker has thrown open the doors to Property NSW, the first tenants at Tower 4 of his $2.7 billion Parramatta Square project.
The government agency will take out 5000 square metres of the 40-storey site, known as 4 Parramatta Square, which is the first of four towers in the complex that will cover more than 124,000 sq m once completed.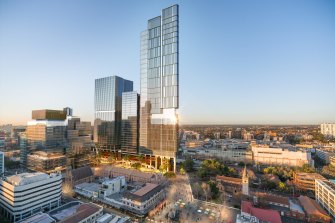 David Gallant, chief operating officer at Walker Corp, said the tower was designed for a "high performance workforce, with strong internal connections and an emphasis on the health, wellbeing and creativity of the staff".
"Parramatta Square is quickly taking shape and the total project is now 80 per cent pre-leased, with over 180,000 sq m of high quality office space committed," Mr Gallant said.
"The NSW Government has led the way in attracting other leading organisations in signing long-term leases in the project, which will open the way for Parramatta city to rival Sydney's CBD in terms of amenity and high quality commercial space."
4 Parramatta Square was constructed by Built and its joint venture partner Obayashi Corporation and designed by architects Johnson Pilton Walker (JPW).
Despite the large amount of developments coming out of the ground, Parramatta has the lowest office vacancy rate in the country, with the rate for premium-grade space near zero.
The NSW government, QBE Insurance, Deloitte, PwC and KPMG have all taken space in the satellite city and developers, including GPT and Lang Walker, are undertaking major office projects.
In her latest report on the region, Ray White head of research Vanessa Rader said the Parramatta CBD was growing in favour due to its relative affordability to Sydney and that quality construction and CBD infrastructure improvements had led to attracting new occupiers and investors.
"After a robust few years for Parramatta CBD, the six months to January 2019 has allowed the market to take a breath, sit back and watch the construction of both the highly anticipated Parramatta Square and infrastructure projects," Ms Rader said.
"With no major supply completions being added to stock levels during this period, we've seen some subdued take-up in space this period also, recorded at just 923 sq m. Despite this little change, we did see vacancy further contract to just three per cent or 21,877 sq m."
In another deal, SC Capital Partners, on behalf of its SCORE+ Fund, has exchanged binding contracts to purchase 2 Wentworth Street, Parramatta for $105.3 million.
Located within Parramatta's central business district, the property comprises an A-Grade office tower in proximity to Parramatta Square, Parramatta Transport Interchange and Westfield Parramatta shopping centre.
The tower is fully leased and houses predominantly government tenants, with an net lettable are of more than 10,000 sq m.
Suchad Chiaranussati, chairman and founder of SC Capital Partners, said market fundamentals are anticipated to remain strong, supported by government plans to establish Parramatta as a "Priority Growth Area" earmarking more than $10 billion for public and private investments.
"The Greater Parramatta area is also set to go from strength to strength, with expectations it will house more than 50 per cent of Sydney's population within the next 20 years," Mr Chiaranussati said.
Source: Thanks smh.com