ACCC raises concerns about $40m sale of Pacific Magazines to Bauer
Australia's competition watchdog has raised concerns about the planned $40 million merger of the nation's two biggest magazine publishers, saying the deal could lead to lower quality content and higher prices.
Buying up its closest rival, New Idea publisher Pacific Magazines, would allow German-owned Bauer Media "to reduce the effort put into content production and the range of content, or to increase prices," Australian Competition and Consumer Commission chairman Rod Sims said in a statement on Thursday morning.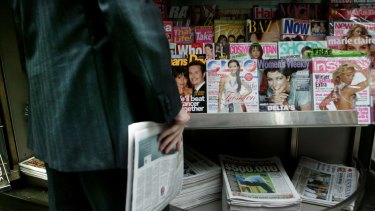 Bauer Media, which publishes titles including Women's Day, Australian Women's Weekly and Harper's Bazaar, in October agreed to buy Pacific Magazines from Kerry Stokes' Seven West Media. Seven chief executive James Warburton said at the time the deal was "the best thing for our people and business" as the magazine market had been "challenged" recently. Both companies had hoped to complete the sale by the end of the year.
Magazines have struggled in recent years due to the rise of social media and websites offering lifestyle content for free and swallowing a growing portion of advertisers' budgets.
When the takeover was announced, Bauer chief executive Brendon Hill said he didn't expect any issues with getting regulatory approval as the magazines' major competitors for ad dollars were the tech giants and Google.
The ACCC begged to differ. "While there is free online content available that resembles the content in these magazines, many consumers still value the physical format of magazines, the packaging together of stories, puzzles, prizes and other content, and the style of the articles produced by each magazine," Mr Sims said.
The regulator said it was "acutely aware of the dramatic decline in magazine revenue, both in terms of lost advertising and reduced sales", yet took the "preliminary view that many readers have a strong preference for print magazines in the key weekly categories."
With Pacific Magazines and Bauer the only magazine publishers in some of those categories, their titles "appear to compete head-to-head on content and cover price," Mr Sims explained. Their key titles "remain profitable, and in some cases average more than one million readers per issue."
Another area of concern was the prices the supersized publisher would pay content providers, including photographers, the competition watchdog said.
The ACCC has invited submissions by interested parties by February 14, with a final decision on the deal scheduled for April 2.
Source: Thanks smh.com