ASIC hopes new rules will stamp out bad bank products
The corporate regulator hopes new draft rules governing a range of financial products will stop banks and super funds from designing and distributing bad products like junk insurance and near worthless superannuation 'cash' options.
The Australian Securities and Investments Commission on Thursday released a consultation paper for the new design and distribution obligations (DDO) for financial services groups — the newest tool in ASIC's expanded armoury.
The DDOs work to accompany ASIC's product intervention powers which allow the regulator to stop poorly designed products being sold in the first place.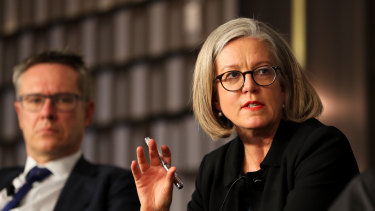 The new DDOs are designed to make banks and other product providers stop and think about what types of consumers will be buying their products, and whether those consumers are appropriate to the product. It will also force banks to consider whether the products' design could be detrimental for consumers.
It's thought that if Australia had DDOs in place years ago many, if not all, of the case studies at the banking royal commission would have not happened because the products would not have existed or would not have been sold to certain cohorts of customers, like selling income protection insurance to unemployed people.
The new obligations will come into effect in April 2021.
ASIC Deputy Chair Karen Chester said the obligations should drive better business and consumer outcomes.
"They simply require business to design products that meet genuine consumer needs and use distribution channels that will likely get them to the right consumers," Ms Chester said.
"Most of the royal commission case studies – from the mis-selling of products to extremely poor
value financial products – would have uniformly failed these obligations."
Ms Chester said the implementation of this reform presented a significant opportunity for industry to demonstrate they have embraced a consumer-centric approach in their business and are better managing non-financial risks.
DDOs are already used in the United Kingdom and the European Union. The new regulations will put the onus on company boards to question the level of complaints and other key indicators that show a product is not working as it was intended, or was faulty in its design in the first place.
ASIC has given companies control over how they design their products and what products they design or use and to set their own parameters for what kinds of consumers are expected to consume the product, rather than being prescriptive about what financial firms should do.
However, groups will have to self-report to ASIC when they breach their self-imposed rules for a product within 10 days.
Source: Thanks smh.com