Catalano pushes Hywood for Prime chairman as tensions with Seven mount
Former Fairfax chief Greg Hywood is being pushed by property entrepreneur Antony Catalano as an unlikely candidate for the chairman's seat at Prime Media in the latest twist in the saga surrounding the regional broadcaster.
Prime's current chairman, former News Corp executive John Hartigan, will step down on Thursday following an investor vote on the planned takeover of Prime by Kerry Stokes' Seven West Media. The deal is expected to be voted down due to opposition from Mr Catalano, the executive chairman of regional publisher Australian Community Media who controls a roughly 15 per cent stake in Prime, and Bermuda-based WIN owner Bruce Gordon who holds a further 10 per cent.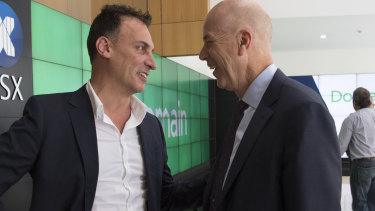 The board has not yet begun a search for a new chairman, however sources familiar with the discussions said Mr Catalano had been discussing the future direction of the business and desirable candidates. The sources said Mr Hywood had been mentioned by the regional newspaper boss as a possible option.
Mr Hywood declined to comment. Sources close to Prime said there had not yet been any formal discussions about who the future chairman might be. However they said the chosen candidate was unlikely to be from traditional media and would have a background in strategy. Mr Hartigan announced in November 2018 that he would leave the business, amid speculation both he and Mr Hywood could be in the running for the ABC chairman role later filled by Ita Buttrose.
Mr Catalano is also facing a future where it will be more difficult to secure deals with Seven after derailing the broadcaster's plans to take over Prime.
Sources close to Seven said there were significant tensions between Mr Catalano and the free-to-air network's management and chairman Mr Stokes after his decision to vote against the $64 million merger deal. The sources did not want to be named due to the sensitive nature of commercial deals.
Mr Catalano has been pushing for a closer relationship between a broadcaster and his regional newspaper group, which he took control of in July after buying the business from Nine for $125 million.
The competition regulator gave the green light to the deal on Wednesday but it is widely expected to be knocked back as both Mr Catalano and Mr Gordon are opposed to the takeover.
Mr Gordon is the owner of rival regional broadcaster WIN TV and has a major stake in Nine Entertainment Co, owner of this masthead.
Mr Catalano and Mr Gordon were lashed by Mr Hartigan this week for "hijacking" the deal when many other shareholders supported the rationale behind consolidating the metropolitan broadcaster and its regional affiliate.
There had been lengthy discussions between Mr Catalano and Seven earlier this year about launching a regional real estate portal, which could have rivalled Nine's Domain Group and News Corp's REA, but the sources said they did not reach an agreement.
The disagreement over the Prime-Seven deal also leaves doubts hanging over the future of printing deals between ACM and Seven in Western Australia, sources said.
Regional media has been through a difficult time, with WIN closing newsrooms and advertising revenue shrinking or being spent online. A digital offering has been one of Mr Catalano's major priorities, and he has also pushed for a regulatory change to allow regional news businesses to merge after describing the sector as in a "crisis" in September.
Mr Hywood steered the Fairfax business through a tough period for media companies. He campaigned prominently for changes to media ownership laws, which paved the way for last year's historic Nine-Fairfax merger.
Source: Thanks smh.com