Construction giant CIMIC settles 'bribery' class action
Construction giant CIMIC has settled a long-running class action with investors over allegations its senior executives had knowledge of corrupt behaviour relating to the Unaoil bribery scandal that hit the company's share price.
The class action alleged that CIMIC failed to comply with its continuous disclosure obligations and engaged in misleading and deceptive conduct by withholding from shareholders that its executives "were, or may have been, aware of conduct which was corrupt or potentially corrupt."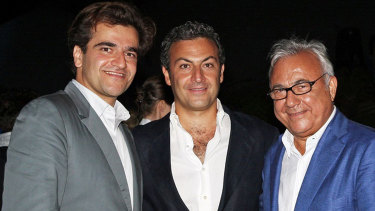 The class action also claimed former executives Wal King, David Stewart, David Savage and Bill Wild had knowledge, or knowledge of the risk, of an offshore subsidiary engaging in corrupt conduct to secure construction work in Iraq.
The shareholder's action was prompted by a bombshell October 2013 investigation by The Age and The Sydney Morning Herald that alleged the former executives were aware of a $42 million kickback paid to Monaco-based Unaoil to secure an Iraqi oil pipeline contract.
The investigation, based on thousands of leaked emails from Unaoil, sent CIMIC's share price tumbling more than 10 per cent and wiped more than $1 billion from its sharemarket value. The report prompted authorities around the world to launch multiple corruption probes into Unaoil.
In a brief statement released to the ASX on Friday, CIMIC said it had reached a "conditional settlement agreement" with shareholders in the class action.
"The settlement will have no material impact on earnings or profit forecasts and is subject to approval by the Federal Court of Australia," the company said.
The claims were due to be heard in court on March 2020, with former executives to be called as witnesses.
"The class action alleged investors in CIMIC paid inflated prices between November 23, 2010 and October 3, 2013 as a result of conduct that was alleged to be in breach of the Corporations Act," said Maurice Blackburn's principal lawyer, Rebecca Gilsenan, who acted for the shareholders and lead applicant Inabu, the trustee for the Alidas Superannuation Fund.
If the court approves the settlement, an unspecified amount of compensation will be paid to eligible shareholders.
The settlement follows the United States Department of Justice revealing last month that Cyrus and Saman Ahsani, the two brothers who ran Unaoil, had pleaded guilty – along with another of the firm's executives – to conspiring to facilitate bribes on behalf of multinational companies to secure contracts in Africa and the Middle East.
Other corruption probes around the world into Unaoil are ongoing.
Source: Thanks smh.com