Village Roadshow screened rival offer before Pacific Equity Partners deal
The wealthy Kirby family and outgoing Village Roadshow Limited chief executive Graham Burke fielded offers for the cinema and theme park operator they control from private equity outfit BGH Capital before agreeing to sell their shareholdings to Pacific Equity Partners.
Two sources with direct knowledge of the negotiations confirmed that investment bank UBS lined up early offers from BGH and Pacific Equity Partners (PEP) of less than $650 million as it worked to get a deal for Village Roadshow Corporation, the private vehicle owned by Robert Kirby, John Kirby and Mr Burke.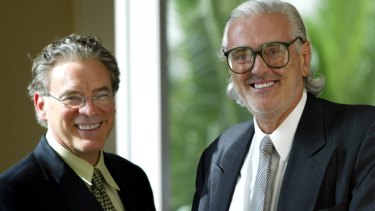 Quadrant Private Equity also expressed interest in the ailing owner of Warner Bros. Movie World, the same sources said. Village Roadshow, the ASX-listed company, last week disclosed that Village Roadshow Corporation had agreed to sell its shares to PEP for $3.90.
UBS' team, led by dealmaker Kelvin Barry, is expected to work on the deal advising Village Roadshow Limited as part of its negotiations with PEP.
The company's share price was languishing below $3 before John Kirby, advised by former Rothschild banker David Kingston, led a shareholder revolt against his brother Robert Kirby. The disagreement spilled into the public arena earlier this year, but Mr Burke said in August the feud was over after the business returned to a net profit and revealed a shake-up of senior management.
The deal has received support from some analysts, with major investment bank JPMorgan describing the offer as "an early Christmas present for [Village Roadshow] shareholders" in a note, adding the Kirby and Burke families were considered "motivated vendors" based on the call option between PEP and Village. JPMorgan previously advised Village on raising capital.
Meanwhile, Morningstar analysts put a 75 per cent probability rate on the PEP offer being accepted, saying Village was a "classic private equity target".
"Over the past three years, as the stock price drifted from $4.56 to as low as $1.74 in mid-2018 before recovering to current levels, our research … has consistently lamented over 'what could have been' had there been greater rigour on capital allocation, cost control, and strategic focus," the analysts said.
However, the analysts said there were many hurdles before the deal was done, with due diligence yet to be conducted and uncertainty "as to whether the willingness to sell is a sentiment equally shared" among the Kirby brothers and Mr Burke.
Analysts from financial advisory firm E.L. & C. Baillieu said Village had a "unique set of assets, albeit exposed to variable weather and film slate quality", with a turnaround since theme park attendance was hit by the Dreamworld tragedy only just under way for the Gold Coast parks.
"If the deal proceeds, Village shareholders will have some opportunity to retain ownership in the acquisition vehicle – PEP is no stranger to the cinema industry given its previous ownership of Hoyts," the analysts said in a note.
Mr Burke is retiring from his role as chief executive at the end of 2019, though he will stay on as a director, with Robert Kirby's son Clark Kirby to take over the position.
Village Roadshow declined to provide details. UBS did not respond to requests for comment.
Source: Thanks smh.com