Bushfire insurance claims put added pressure on premiums
As the number of bushfire-related insurance claims climbs as more than 100 blazes burn across NSW and South Australia, pressure is mounting on Australia's major home insurers to hike premiums.
The Insurance Council of Australia said the number of claims in November and December was more than 2300 for destroyed homes, cars, farm machinery and fencing – worth more than $182.6 million.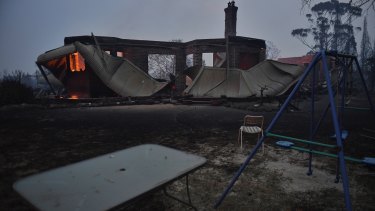 Although that is less than a quarter of the claims lodged after Victoria's Black Saturday blaze, with the bushfire season still in its early stages and many people yet to reach their homes after the recent fires, the number of claims is sure to grow.
According to the Rural Fire Service, 724 homes have been confirmed lost and 2.7 million hectares burnt in NSW alone since late August.
With an average payout of about $80,000 per insurance claim, Bell Potter analyst TS Lim said the claims so far appear "manageable" for insurance companies. However, the pinch on future profits for insurers could start to kick in when their value exceeds $500 million.
"It's early days, it's too hard to tell," Mr Lim said. "The best I can say is it's still okay for them."
Fires are still burning with homes being destroyed every single day. It's unfathomable the amount of lives that have been affected.

Insurance Council Australia spokesman Campbell Fuller
Insurance Council Australia (ICA) spokesman Campbell Fuller said the destruction in the latest fires was immense.
"Fires are still burning with buildings and homes being destroyed every single day. It's unfathomable the amount of lives that have been affected and disrupted by that," he said.
The 2009 Black Saturday fires killed 180 people and led to more than 9,100 insurance claims worth more than $1 billion. Mr Lim said this put a major strain on providers.
"Basically, that meant a claims blowout and they had to talk to the market about potential changes to margins and so forth," Mr Lim said.
Major insurers IAG and Suncorp said it was impossible to predict the total number of claims that would result from this bushfire season and that it was too early to measure the material impact, if any, they would have on profits and premiums.
However, as destructive weather events become more frequent and severe, Mr Fuller said it was a matter of not if, but when, insurance premiums would start to rise.
"Anything that changes the level of risk is likely to affect premiums but that change will be incremental," he said.
"Climate change is generational and insurers price the risk on the year in which the policy is active.
Climate risks
"It is likely that the changes to risk caused by climate change will flow through to insurance premiums but it's not going to be right now."
An IAG investor presentation lodged with the ASX in November labelled bushfire risk as one of the fastest growing climate risks in Australia and an attached report called for greater government funding for mitigation. ICA echoed this demand.
"There are much larger actions that need to take place around better land use and building standards," Mr Fuller said.
"Governments have an important role to play through reducing the physical risk to properties."
Source: Thanks smh.com