Melbourne Storm dives back into pokies with plan for gambling venue
Rugby league club Melbourne Storm want to get back in the gambling business, applying to open a poker machine venue in Melbourne's west to reap millions from punters' losses every year.
The application for an 80-machine venue in Truganina comes less than a year after Victoria's only NRL team exited their previous pokies assets, having declared they wanted to follow several AFL clubs in weaning themselves off gambling revenue.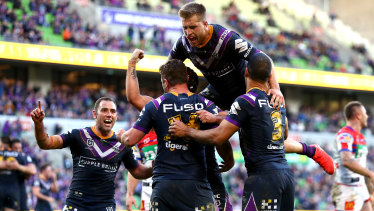 A planning application lodged with Wyndham City Council lists Storm as the operators of a gaming venue within a proposed hotel and hospitality development at 231 Leakes Road, next to a recently developed residential zone 19 kilometres west of the CBD.
The club want the gaming room to operate from 7am to 3am – the maximum 20 hours a day permitted – and expect the 80 machines to generate between $7.5 million and $8.7 million in the first year.
The Storm have previously said they wanted to build up their club membership base and cut their reliance on poker machine revenue. One of the club's co-owners, online betting tycoon Matthew Tripp, called it a "necessarily evil" to improve the club's financial affairs.
In February The Age revealed The Storm had achieved that goal with the sale of the Kealba Hotel in St Albans, which was bringing close to $20 million in gambling losses a year.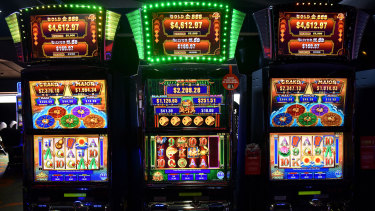 Alliance for Gambling Reform executive director Tony Mohr said it was disappointing Storm had backflipped on their earlier exit from what he said is a damaging industry.
"The majority of AFL clubs in Victoria have moved out of poker machines and Melbourne Storm should be looking towards other codes to see that poker machines and sport don't go together," Mr Mohr said.
"They want to make sure their team represents their values on the field and off the field, and that means keeping themselves as clean and as out of gambling as they can."
Melbourne Storm declined to comment.
The planning application says most of the proposed venue's poker machine revenue would come from Truganina residents who currently gamble at other venues. It says the net increase in gambling losses attributable to new venue would only be $1.2 million to $1.9 million, which would make a "negligible" influence on problem gambling behaviour.
Meanwhile, the application says, Truganina would benefit from Storm's involvement in the area through cash donations to community groups and employment from the construction and operation of the new development.
Along with Mr Tripp, who built a fortune at online bookmakers Sportsbet and BetEasy, the Storm are owned by Jayco caravans founder Gerry Ryan and club chairman Bart Campbell.
Storm's private owners bought the club from Rupert Murdoch's News Corp in 2013 and have stabilised the once financially troubled team's accounts.
While many NRL clubs are heavily reliant on pokies revenue, a backlash led by anti-gambling campaigners has seen AFL clubs including Collingwood, Melbourne, Geelong and the Western Bulldogs all either exit or plan an exit from gambling. North Melbourne has been pokies-free for more than a decade.
The proposed Truganina development will go to vote of Wyndham City councillors in early 2020.
Source: Thanks smh.com