Mobile data use spikes to new record on New Year's Eve
Party-goers ringing in the New Year are more likely than ever to turn to social media to celebrate with mobile data use on Tuesday tipped to jump 50 per cent compared to the year before.
At the same time the number of voice calls is expected to stagnate, with data forecasts provided by Telstra estimating 61 million phone calls would be made on New Year's Eve. This was roughly the same as in 2018. New Year's Eve still outstrips Christmas Day for mobile calls, where the number of calls is one third lower.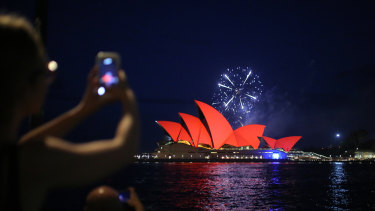 Data usage was tipped to rise from 2.4 petabytes in 2018 to 3.6 petabytes in 2019, marking a new record. This was up from 1.3 petabytes in 2016 and an estimated 0.6 petabytes in 2014.
A spokesman for Telstra said the 2019 usage would be "enough data to download the [Triple J] Hottest 100 playlist two million times".
"This is mainly due to the increased propensity of images and videos consumed and uploaded on social networks," he said.
Vodafone chief technology officer Kevin Millroy said 4G data usage had been steadily rising across the network during the busy summer months.
"For the past three years we have seen massive increases in data use on our network during New Year's Eve," Mr Millroy said. On Vodafone's network, 4G traffic over the summer and New Year's period has typically risen in excess of 50 per cent annually since 2016.
"At its peak, 4G data traffic on our Sydney network on New Year;s Eve is approximately 75 per cent higher than it is the day before, as people flock to share moments from the most famous fireworks display in the world," he said.
Source: Thanks smh.com