US stocks move broadly lower to start holiday-shortened week
Stocks moved broadly lower on Wall Street on Monday as the market gave back some of its recent gains following a record-setting run.
The benchmark S&P 500 index has risen five straight weeks, notching multiple all-time highs along the way. It's on track to end the month about 2.6 per cent higher, its fourth-consecutive monthly gain.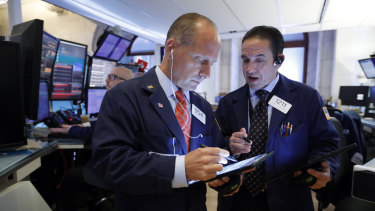 The S&P 500 fell 18 points, or 0.6 per cent, to 3,221. The Dow Jones Industrial Average fell 183 points, or 0.6 per cent, to 28,462. The Nasdaq gave up 60 points, or 0.7 per cent, to 8,945.
Technology, health care and communication services companies drove much of the selling Monday. Chipmaker Nvidia slid 2.2 per cent, Biogen dropped 1.3 per cent and Facebook lost 1.4 per cent.
Retailers and other companies that rely on consumer spending also moved lower. AutoZone dropped 1.6 per cent and Amazon slid 1.3 per cent.
Homebuilders fell after a report on pending US home sales in November came in below analysts' expectations.
Energy stocks were the only sector to rise. Helmerich & Payne climbed 3.3 per cent.
Despite the downbeat start to the holiday shortened week, the S&P 500 is on pace to close out 2019 with its best year since 2013.
A truce in the 17-month US-China trade war and positive signs for the economy have helped keep investors in a buying mood. Fears about a possible recession have also faded since the summer after the Federal Reserve cut interest rates three times. The central bank appears set to keep them low for the near future.
Still, as the market prepares to close out a strong year of gains this week, uncertainty remains over the final details of a "Phase 1" trade deal between Washington and Beijing, which US officials say will be signed in early January. Details of the agreement have not been disclosed, and it's unclear how much impact it will have if the two sides are unable to resolve remaining differences.
AP
Source: Thanks smh.com