Rare bunch of restaurants convicted and named for health breaches
Only a handful of businesses across NSW and Victoria are being convicted and publicly identified for breaking food safety laws every year.
NSW local councils launched 10 prosecutions against retail food businesses for food safety law breaches in the 2019 financial year, according to the NSW Food Authority's annual report.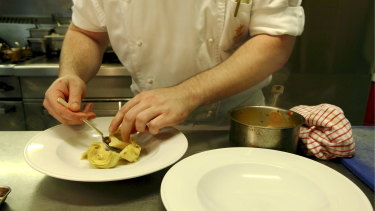 NSW businesses successfully prosecuted in court are "named and shamed" on a public register for two years. The register currently lists 20 cases, with the most recent offence being committed in 2018.
There were 817 businesses added to a separate register for businesses hit with on-the-spot fines for health and breaches last year in that state.
Meanwhile Victoria currently only lists five businesses on its public "name and shame" register, with convictions spanning between November 2018 and June 2019.
Questions have been raised about the public's right to know which restaurants are putting health and safety at risk from substandard hygiene practices, after revelations of non-compliance at one of the country's most successful fast food chains, Grill'd.
Leaked internal food and safety audit reports, internal documents and photographs from Grill'd staff have revealed unsanitary and rodent infected conditions at some restaurants.
One Grill'd store in Victoria, was issued with an inspection notice of "major non-compliance", noting that similar non-compliance was identified "every year".  However fines were never been issued nor the public notified of the store's poor standards.
In both states inspection and enforcement of food safety laws is carried out by local councils, while state food safety agencies maintain the public registers of businesses that have been fined or convicted.
The NSW list of penalty notices shows businesses receiving minor fines for repeat breaches of food safety rules. For example, a burger store in Sydney's Canterbury was fined $440 for failing to maintain a clean kitchen, despite receiving a previous warning.
Among the five listed food safety convictions in Victoria are a Vermont South burger restaurant, which was fined $15,000 for its dirty kitchen, failing to store food correctly to prevent contamination and string of other breaches.
A spokesman for Victoria's Department of Health and Human Services said local councils were predominantly responsible for enforcing food safety rules through prosecutions, and tools such as closure orders and improvement notices.
NSW Food Authority spokesperson said the "name and shame" register was "just one of a suite of food safety initiatives in place to protect the health and safety of NSW consumers", which included education, training and its Score on Doors program, which displays food safety ratings outside restaurants.
Last year there were 60,161 food safety inspections carried out in NSW last year with a 96 per cent compliance rate – above the authority's goal of 95 per cent, the spokeswoman said.
Source: Thanks smh.com