Childcare centres raising revenue with 'extreme' withdrawal policies
Sydney childcare centres are clawing extra revenue from families by imposing "extreme" terms and conditions around withdrawal notice periods and bonds.
The Sun-Herald has found some centres refuse to return the bond unless the child is moving to school, while others require notice of up to three months depending on the time of year.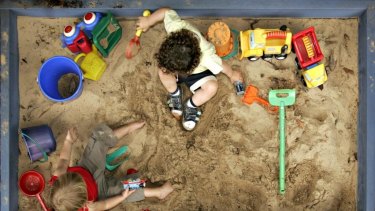 Balmain Care for Kids, which operates two early learning centres and an out-of-school-hours provider in the suburb, has a policy published on its website stipulating parents cannot give notice after the end of the third term of the school year.
Families can usually withdraw from the centre by giving six weeks' notice in writing, but after September they would be charged normal attendance until the centre closed at the end of the year.
Balmain Care for Kids did not respond to request for comment. 
The Sun-Herald also spoke to a mother called Mel (surname withheld by request) who found her refundable bond withheld by a long daycare centre in western Sydney.
She provided her official notice in writing and was then informed the centre only refunded the bond if the child was turning five and moving to school, not if the family was relocating.
She believes the policy changed after her son started at the centre. "They told me it was only about $200 but regardless, that's like two weeks' worth of groceries for us," she said.
There are about 5500 early childhood learning centres in NSW. The Department of Education received about 1000 complaints in the 2018-2019 financial year, ranging from concerns about the care quality to building safety.
Separately, NSW Fair Trading received 118 complaints about childcare services in 2019, mostly financial complaints related to refunds and overcharging.
Australian Childcare Alliance president Paul Mondo said the "accepted norm" for most providers was two weeks' notice and the examples described above were "extreme".
"The sector has a responsibility to provide fair and reasonable conditions for families," Mr Mondo said. "I'm surprised because … it's a long way from what most parts of the industry actually do."
But in Sydney it is common to require more than two weeks' notice. For example, the "Only About Children" childcare chain operating in Sydney, Brisbane and Melbourne asks for six weeks' notice. A spokeswoman said notice could be provided at any time and the return of the bond was not altered by the child's age or reason for leaving.
Not-for-profit chain KU requests four weeks' notice, which also can be given at any time. Enrolling families pay two weeks' bond and two weeks in advance and this is later used to cover the notice period.
KU chief executive Christine Legg said the organisation "did not see it as an income stream" and tried to be flexible when families had to move at short notice.
"Depending on the family circumstances, if we can replace that child pretty quickly, we may decide to refund all the money," Ms Legg said. "Our reputation is really important to us so we would want to be as fair as possible to parents."
There is also a huge variation in late pick-up fees across the sector. For example, Balmain Care for Kids charges $50 for every 15 minutes past the official pick-up time, while KU charges nothing for the first 15 minutes, $32 for the next 15 minutes and $54 if the parents are more than half an hour late.
Ms Legg said centres had the discretion not to charge fees if the parents called to explain they were running late and it was not a regular occurrence.
Source: Thanks smh.com