Co-working group WOTSO to test investor appetite with $40m raising
Co-working outfit WOTSO is looking to test investor appetite for the growing sector, seeking $40 million in capital ahead of a planned ASX listing in 2020 after its demerger from property developer BlackWall.
It comes after rival global player Wework pulled its float on the New York Stock Exchange in September, valuing the company at $US47 billion ($69 billion) and founder Adam Neumann stepped down as chief executive.
BlackWall announced plans last August to spin out WOTSO, which it developed in 2014, so it could raise additional funds and expand its footprint.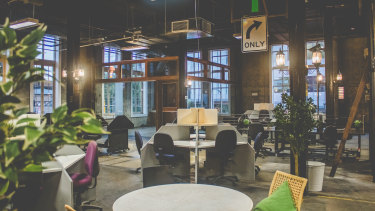 The demerger was approved last month and last week WOTSO lodged a prospectus with the Australian Securities and Investments Commission (ASIC) outlining its future fundraising plans, which include offering $10 million in shares to existing BlackWall shareholders at 47.5¢ a share and seeking $30 million from sophisticated and institutional investors at the same price.
The $40 million goal is based on WOTSO doubling the footprint of its co-working spaces, which are located in and pitched at suburban and regional workers across New South Wales, Canberra, Queensland and Tasmania.
The company, led by managing director Stuart Brown, said it aimed to be a "ubiquitous" brand outside of major capital cities at a time when startup hubs and co-working spaces are focused primarily on CBD locations.
"It addresses the challenges of lengthy commutes to CBD offices that many workers face, particularly those in large cities or where transport infrastructure is inadequate or inefficient," the prospectus said.
Mr Brown said the business was unable to predict the health of the IPO market it may enter into this year, but believed WOTSO had growth opportunities because it was responding to a "fundamental shift" in how businesses and individuals used office space.
"Suburban and regional office space allows our members to work where they want. The average commute in Australian capital cities is now 66 minutes – our model responds to this, as it does the demand for work-life balance," he said.
WOTSO grew its turnover from $1.2 million in 2014 to $13.8 million in the 2019 financial year.
It has 17 sites across the country and is looking to double that with fitout of possible new leases set at $500 to $1,000 per square metre.
As a standalone company, WOTSO intends to pursue an ASX listing in the near future after the capital raise is completed. Shares issued in this offer will not hit the ASX boards.
Australia's co-working sector continues to expand though investors have watched the space closely after Wework pulled its float. 
The sector accounts for about 20 per cent of the global office market and about 4 per cent in Australia. It comes in many guises from a small open space in a hotel lobby or shopping centre to the large tenancies of WeWork and its competitors.
Meanwhile, niche office players have turned to investors to launch new co-working efforts such as women-focused office startup Frankly Co, which is asking the public for $2.5 million via equity crowdfunding. 
The offer is expected to be sent to shareholders next week.
Source: Thanks smh.com