Big business and rich-listers donate millions for fire relief
Australia's biggest businesses have started tipping in money and other forms of support for communities affected by devastating bushfires, and the volunteer firefighters trying to save homes and lives.
The Business Council of Australia, the country's peak corporate lobby group, on Tuesday announced the creation of a  trust to assist the families of volunteers killed while fighting fires, both during the current disaster and into the future.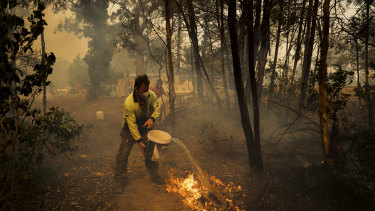 The trust, which will aim to raise an initial sum of $25 million through donations, will focus on supporting the education of children who lose their parents, the BCA said.
Three volunteer firefighters have been killed while battling blazes so far this summer – two in NSW and one in Victoria.
Businesses including ANZ, Coca-Cola Amatil, Coles, Commonwealth Bank, National Australia Bank, Qantas, Rio Tinto, Virgin Australia, Wesfarmers, Westpac, Woodside and Woolworths have all granted paid leave to workers who volunteer with emergency services.
The BCA said it had called on all its members to give volunteer staff at least 20 days' paid leave.
Individual businesses and rich-listers have donated millions of dollars to support communities and fire-fighting services.
Billionaire James Packer and his casino group Crown Resorts has promised $5 million to fire services in Victoria, NSW and WA, as well as to the Red Cross, the Victorian government fund, the Wildlife Information, Rescue and Education Service (WIRES) and Zoos Victoria.
The Crown donation is shared 50/50 with the Packer Family Foundation, which is run by Mr Packer, his sister Gretel and mother Roslyn.
Australia's richest man, Anthony Pratt, who owns the Visy Industries packaging and recycling companies, has promised to donate $1 million to the Foundation for Rural and Regional Renewal.
Qantas, the major banks and mining giants BHP and Rio Tinto have all pledged similar amounts.
These donations are far outstripped by fundraising efforts led by Australian comedian Celeste Barber which neared on $41 million on Tuesday, with more than a million people contributing to the effort through Facebook.
Source: Thanks smh.com