Qantas to detour 'until further notice' after jet shot down in Iran
Qantas and other airlines will continue to divert around Iran and Iraq following a military escalation in the region that appears to have caught one civilian aircraft in the crossfire, killing all 176 passengers and crew on board.
The United States and its allies on Friday said they had intelligence that Iranian milliary forces shot down a Ukrainian International Airlines jet bound for Kiev shortly after it taking off from Tehran on Wednesday.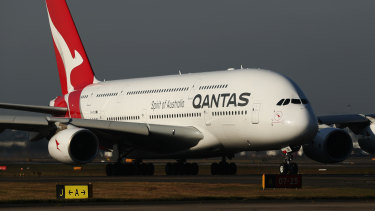 Government leaders, including Australian Prime Minister Scott Morrison, said the shooting down of the Boeing 737-800 jet with a surface-to-air missile appeared to not be deliberate.
International airlines were already diverting around Iranian and Iraqi airspace after Iran launched a missile attack on a military bases housing US and allied troops in the neighbouring country.
The US Federal Aviation Administration (FAA) banned US carriers from flying over Iraq, Iran, the Gulf of Oman and the waters between Iran and Saudi Arabia amid the escalation.
That order is not binding for airlines from other countries, but carriers typically consider the FAA's advice when making safety decisions.
Qantas said on Friday it would continue to divert around Iran and Iraq "until further notice".
The airline's non-stop flights between Perth to London (QF9 and QF10), which frequently fly over Iran and Iraq, are flying over Afghanistan instead, following a flight path used by its services to London via Singapore.
Singapore Airlines re-routed all flights to avoid Iranian airspace on January 6, and it has not flown over Iraq since 2012.
Emirates, Etihad and Qatar Airways flights connecting from Australia to Europe via their Gulf hubs were continuing to pass over Iraq, according to aircraft tracking site Flightradar24.
Qantas' Perth-London detours requires it to remove as many as 90 passengers from its 236-seater Boeing 787 Dreamliners for the outbound journey, to reduce weight and make it possible to fly the extra 40 to 50 minutes required by the detour.
A Qantas spokesman said it was considering adding a refuelling stop in Singapore or Hong Kong so it ould fly with a full passenger load but no decision had been made yet.
The Australian airline flies over the region at about 40,000 feet. The missile that reportedly brought down the Ukranian airliner, the SA-15, can intercept aircraft at an altitude of up to 32,8000 feet.
The Ukrainian International jet was flying at 8000 feet shortly after taking off from Imam Khomeini International Airport in Tehran when it was brought down.
Malaysia Airlines Flight 17 was flying at 33,000 feet above Ukraine when it was shot down by Russian-backed separatists in 2014 using a surface-to-air missile similar to the SA-15.
The FAA said the flight ban it issued was "due to heightened military activities and increased political tensions in the Middle East, which present an inadvertent risk to US civil aviation operations due to the potential for miscalculation or mis-identification".
Source: Thanks smh.com