Woolworths polishes Endeavour offering with liquor delivery stake
Supermarket giant Woolworths has bought a majority stake in Sydney-based liquor seller Shorty's in an effort to bolster its $10 billion Endeavour Drinks division before a potential spin-off later this year.
Endeavour chief executive Steve Donohue said the acquisition would develop "new growth avenues" for the beverage unit which owns bottle shops BWS and Dan Murphy's as well as hundreds of pubs and pokie operators.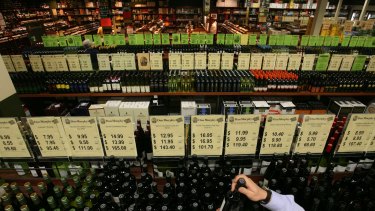 Shorty's, founded in 2001 by entrepreneur David Short, offers both business-to-business and traditional liquor delivery across Sydney, but it was the company's corporate customers that attracted Woolworths' interest.
The company's client list includes prominent financial services, legal and advertising businesses in Sydney, and Mr Donohue said the retailer would be looking to establish a "bigger presence" in the business to business market.
In December, Woolworths shareholders voted overwhelmingly in favour of the Endeavour Group's restructure, a key step in a complex process which consolidated Woolworths' drinks, hotels and pokies businesses under a separate internal entity.
Woolworths, through Endeavour, already owns consumer-focused liquor delivery service Jimmy Brings, and the acquisition of Shorty's will help the company round out its delivery offerings ahead of the demerger of Endeavour Group later this year.
The retailer plans to separate Endeavour, likely through an ASX listing, at some point in calendar 2020. Investors reacted positively, believing it will remove the "conglomerate discount" from Woolworths' share price, along with limiting the company's involvement with the problematic gaming sector.
Shorty's will continue to be run by Mr Short and will look to expand into Melbourne, Brisbane and other capitals in the coming years. The majority stake's price was not disclosed.
Woolworths shares were down 1.19 per cent to $37.37 in afternoon trade, largely in line with the broader market.
Source: Thanks smh.com