Business Council of Australia hits back as pressure mounts on climate change
The nation's top business lobby group has defended its stance on climate change amid fresh signs of discontent within the corporate sector over Australia's approach to reducing carbon emissions.
"We absolutely reject any suggestion that we have been anything but proactive and constructive on climate and energy policy," the influential Business Council of Australia said in a statement on Tuesday. "If we are to provide affordable and reliable energy and reduce emissions we all need to work together."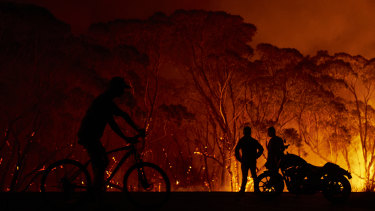 The statement came after billionaire tech entrepreneur Mike Cannon-Brookes lashed out at the BCA, which represents some of the nation's largest companies, labelling it a "strongly regressive force" on climate change issues.
Australia's approach to dealing with climate change has moved into focus this week after Prime Minister Scott Morrison signalled his government could change its approach to emissions policy amid the bushfire crisis. However, Mr Morrison has ruled lifting emissions targets or introducing a carbon tax.
Telstra last year threatened to rescind its membership of the BCA because of its climate change stance, just months after Westpac distanced itself from the lobby group's position.
The BCA in 2018 described Federal Labor's plan for a 45 per cent reduction in emissions by 2030 as "economy wrecking", saying instead the government's 26 per cent target was "appropriate and achievable".
"Do the people of Mallacoota think climate action is economy wrecking?" Mr Cannon-Brookes said in a subsequent message to The Sydney Morning Herald and The Age on Tuesday.  "Can the 500,000 people in the tourism industry get paid with accounting tricks instead of tourists?"   he added, referring to the Morrison government's plan to carry over Kyoto carbon credits to hit its targets.
Labor requested the BCA formally withdraw the economy wrecking claim in 2018 saying it was "baseless" and "not true and not supported by any credible evidence".
But BCA chief executive Jennifer Westacott doubled down on the claims in an opinion piece , saying the 45 per cent target would be "excessively risky".
On Tuesday the BCA said it had supported the Rudd government's carbon pollution reduction scheme and also fully backed the Turnbull government's push for a National Energy Guarantee.
"This is in stark contrast to those who talk about problems but rarely come to the table with practical and sensible solutions that are acceptable to the community," it said.
The group noted it would work with members to develop a "comprehensive" climate and energy policy in the coming months.
Mr Cannon-Brookes said he was hopeful the BCA would change its stance under the leadership of new chairman Tim Reed, the founder of accounting software provider MYOB.
Paul Bassat, a prominent investor, founder of employment website SEEK and board director of the AFL urged the BCA to take a new approach on climate change. "Business has an incredibly important role to play in Australia and globally in leading this debate and making positive change," he said.
"I am really hopeful that under the leadership of Tim Reed and Jennifer Westacott, the BCA will be an important leader in the climate change debate going forward and that Australian businesses will proactively lead the charge to reduce their emissions.
Earlier this week Mr Bassat described the bushfire crisis this week as "our generation's Port Arthur moment", referring to the 1996 massacre which prompted the Howard government to tighten gun laws.
Bendigo Bank, a member of the Business Council, said it actively engaged the organisation on a range of topics.
"Whilst there are many different views being discussed, what's clear is that we all need to be more progressive in climate policy."
"We'll let the BCA comment on its collective climate policy, but we all need to be doing more to move towards an effective co-ordinated national response," the bank said.
Source: Thanks smh.com