Rupert Murdoch's News Corp pledges $5 million to bushfire relief
News Corp will donate $5 million to the bushfire relief effort after weeks of criticism over its coverage of the crisis.
The multimillion-dollar donation is in addition to the personal donations of executive chairman Rupert Murdoch, Jerry Murdoch, Lachlan Murdoch and Sarah Murdoch, which combined totals $4 million.
News Corp's donation comes days after an employee slammed the organisation over its reporting of the bushfires, accusing it of a "misinformation campaign" filled with "irresponsible and "dangerous coverage".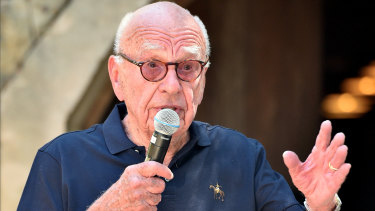 The company has gained international attention for its coverage in recent weeks, with media outlets including The Guardian and The New York Times criticising the way the bushfire crisis and climate change have been reported in its mastheads, including The Australian, The Daily Telegraph and The Herald Sun. News Corp stands by its coverage.
News Corp executive chairman Rupert Murdoch said the company was determined to help, "both in this time of great need and well into the future".
"It is clear that confronting the bushfire disaster in Australia requires both an immediate response and an ongoing investment in rebuilding the lives and livelihoods of those most affected by the fires across the country," Mr Murdoch said.
Robert Thomson, chief executive of News Corp, said the donations would be focused on ensuring communities have support as they begin to rebuild.
"Our company also has an important role to play in supporting our firefighters and the long-term renewal of communities hardest hit by the tragedy," Mr Thomson said.
In addition to the $5 million donation, News Corp Australia will dedicate the money made from its metropolitan newspapers and advertisements to bushfire appeals on January 21, which is expected to raise more than $1 million.
Foxtel, which is majority-owned by News Corp, will donate the proceeds from advertising packages for charity events run by Cricket Australia, the AFL, NRL and the Fire Fight concert. News Corp Australia, Foxtel and REA Group have already made donations to the Salvation Army and Red Cross.
Last Friday News Corp Australia executive chairman Michael Miller stood by the company's coverage of the national bushfire crisis after an email from News Corp's commercial finance manager, Emily Townsend, was sent to all staff. Ms Townsend said she found it "unconscionable" working for News Corp as she felt she was contributing to the spread of "climate change denial and lies".
Mr Miller said that while he respected Ms Townsend's views he did not agree with her.
"News Corp stands by its coverage of the bushfires. The dedication and professionalism of our journalists and photographers have kept the community – particularly those Australians affected directly – informed and supported," Mr Miller said.
At News Corp's annual general meeting last year, Mr Murdoch rejected claims his company promoted a climate-change denial agenda, telling shareholders "there are no climate change deniers around, I can assure you".
Source: Thanks smh.com