Gerry Harvey sells hundreds of cows as bushfires ravage his farms
Retail and horse racing magnate Gerry Harvey has been forced to sell around 300 cattle on his farming interests, with bushfires and drought contributing to some of the worst conditions the Harvey Norman founder has seen in his lifetime.
Mr Harvey, who has extensive horse racing interests including the Magic Millions racehorse auction, told The Age and The Sydney Morning Herald his horse studs in the Hunter Valley and Armidale, New South Wales, had been significantly hit by the fires.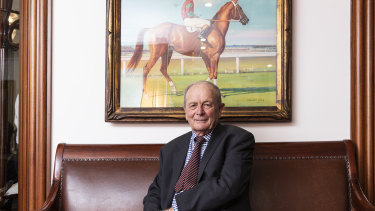 "My horse stud in the Hunter Valley, I've had a fire there for a month. There's been 15 fire trucks a day some days," he said.
"It all burnt out on one side, and then two or three weeks later, it all burnt down the other side. I've been there over 20 years and I've never had that happen."
The billionaire retailer said he'd been forced to sell "every cow" on both his properties in the region, citing the high costs of feeding them due to the dry conditions, saying it was the worst drought he'd seen in the last two decades.
"I took the view that I just have to sell the lot. And I've never done that in 50 years," he said.
I took the view that I just have to sell the lot. And I've never done that in 50 years.

Harvey Norman founder Gerry Harvey
"When it rains I can buy cattle back, but it's going to be very expensive because everyone will be wanting them. The price of cattle will go through the roof."
Costs for feeding Mr Harvey's 500-odd horses have also doubled, he said, though none of those had been sold due to the poor conditions.
Despite the unprecedented conditions, the seasoned retailer said he had "no idea" if the conditions were caused by climate change or not, explaining the debate was best left to scientists.
"I find it amusing when people who have no idea start telling people if it is or isn't [climate change]. You get the bloke in the street who talks as if he knows what he's talking about, or an entertainer or politician gets up and starts spouting about it," he said.
"How would they know?"
But the poor conditions did not detract from the Magic Millions auction, which ran from January 8 to 14 and brought in a "record" $190 million in sales, he said.
Like the auction, Mr Harvey's homegoods and electronics retailing empire has also avoided significant disruption from the bushfire crisis, though individual stores at locations such as Batemans Bay and Nowra had been "severely impacted", he said.
"When you look at the big picture of it, it's not significant, but it is very significant when you go into those towns with those affected stores," he said.
The large amount of money being donated towards bushfire appeals may have also diverted potential discretionary spending over the holiday period, Mr Harvey said, echoing similar warnings from analysts last week.
"That's money that they might have spent on buying a fridge or taking an overseas holiday or buying a new car or whatever. I think that has to be taken into account," he said.
Source: Thanks smh.com