Echoes of the Great Depression: 'Eye-watering' US unemployment figures set to get much worse
Unemployment in the US is set to surge to its highest rate since the Great Depression after a second week of record lay-offs dealt a stunning blow to the world's largest economy.
The number of Americans filing for unemployment benefits in the week ending March 28 doubled to almost 7 million, with economists warning that up to 20 million jobs could be lost across the country as lockdowns bite.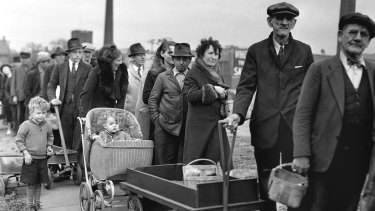 Wall Street analysts predicted that unemployment will hit 16 per cent within months – a rate not seen since the end of the Great Depression in the 1930s.
The shocking figures show that employers are shedding workers at a frightening pace to combat a sudden stop in economic activity as the White House struggles to contain the COVID-19 outbreak. The weekly rise was 10 times higher than the pre-coronavirus record set in 1982 and means just under 10 million people have filed for unemployment benefits in the last two weeks. James McCann, of Aberdeen Standard Investments, said: "This is eye-watering and we are still only at the beginning of the layoffs spurred by the lockdowns.
"When we look at all the jobs at direct risk from social distancing policies, and those which could be affected indirectly, the numbers start to get pretty scary."
More than four-fifths of Americans are in lockdown as the number of coronavirus cases in the US leapfrog all other countries.
Economists hastily revised their forecasts for unemployment after the shocking second week of jobless applications suggested many have been too optimistic on losses.
The jump in claims suggests the rate of unemployment has already surpassed the financial crisis peak at above 10 per cent. Unemployment will hit 16 per cent in the second quarter with between 16 million and 20 million jobs lost, Bank of America economist Michelle Meyer predicted.
James Knightley, ING economist, said 15 per cent unemployment by May was "quite conceivable" and warned of a slow recovery in the jobs market.
He said: "Many companies will not make it through the crisis due to the plunge in demand.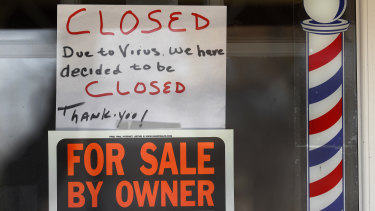 "Others will restructure and come out requiring a smaller workforce." Rocketing unemployment and a deep recession could deliver a knockout blow to Donald Trump's hopes of re-election in November as the coronavirus puts an end to the US jobs boom.
Ian Shepherdson, at Pantheon Macro, criticised the President's package to rescue the US economy, arguing it "didn't have to be this way". He said: "The US could have followed the lead of several major European countries and offered job retention programs, paying most of people's salaries, but preferred instead to increase and extend unemployment benefits."
Many European countries, including Britain, are paying a proportion of furloughed workers' wages to save jobs, but the Trump administration has instead opted to beef up unemployment benefits.
Workers who have been laid off can get up to $US600 ($990) a week for four months, but this generous benefits package may not stem job losses.
Mr Shepherdson added that the grim figures emerging from the US economy make another huge support package inevitable – on top of an unprecedented $US2 trillion ($3.3 trillion) stimulus already agreed in Washington.
Labour markets have also started to crumble in Europe as lockdowns take their toll on economies.
Almost 900,000 jobs have been lost in Spain since the country shut down last month, with a further 600,000 temporarily laid off.
The French labour ministry said that businesses have asked to put 4 million workers on furlough with their wages subsidised by the state. Economists have warned that the post-COVID-19 recovery could be slowed if governments fail to protect jobs and businesses.
Analysts have warned that the West should brace for unprecedented drops in economic growth in the coming months. Capital Economics warned of a 25 per cent plunge in output in European countries under lockdown.
Telegraph, London
Source: Thanks smh.com