Alan Joyce's pay falls to $1.7 million as pandemic clips Qantas' wings
Qantas chief executive Alan Joyce's pay fell to $1.7 million in the 2020 financial year after he accepted a salary cut and missed out on bonuses amid the airline's COVID-19 shutdown.
The latest pay cheque is down from $9.9 million a year earlier and a far cry from the $24 million Mr Joyce took home in 2018, when he was Australia's highest-paid executive.
But the airline offered its CEO an additional $1.3 million worth of company shares as a reward for its share price not falling as much as those of rival carriers during the pandemic, according to Qantas' annual report published on Friday. Mr Joyce chose not to accept his 343,500 new shares immediately and would decide after a year whether to accept them or let them lapse, the airline said.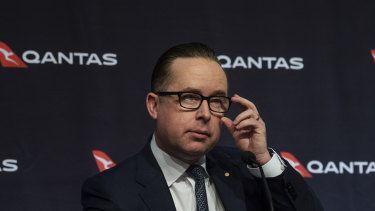 Qantas' executive team took a three-month pay freeze and did not receive any short-term bonuses after the pandemic forced it to stand down around 20,000 employees, lay off close to 8000 workers and pushed the airline to a $1.9 billion loss.
However the annual report shows executives were awarded half of their long-term bonuses because Qantas' share price – while down 44 per cent since January and down 32 per cent over a three-year period – was still performing better than a group of comparable listed airlines.
Qantas said the $1.2 million value of the shares awarded was less than the base pay key executives had sacrificed during the year. Total executive pay fell from $22.4 million in 2019 to $6.9 million.
Qantas chairman Richard Goyder said his board and management had shown "important leadership" by giving up some of their salaries.
"This is obviously not the same hardship as [experienced by] those stood down or facing redundancy, but it comes at a time when demands on management are greater than ever," he said.
Qantas said its executives would have been entitled to part of their annual bonuses based on non-financial measures, but gave those up along with some of their salaries.
The company's executive team and board received no salary between April and June. That freeze extended into July for Mr Joyce and chairman Richard Goyder, who are now being paid 65 per cent of their base rate. Other board and executive team members have been on 85 per cent of their normal pay since July.
Qantas collected $267 million in payments through the JobKeeper scheme last financial year, with most of that going to workers who were stood down. The airline said it received a $15 million net benefit thorough the wage subsidy scheme and other government support packages.
Source: Thanks smh.com