Infrastructure pandemic splurge needs private funds, says Macquarie
Macquarie Group chief executive Shemara Wikramanayake predicts cash-strapped governments will need private capital to fund new public infrastructure essential to stimulate their economies in the wake of the COVID-19 crisis.
Ms Wikramanayake told an Infrastructure Partnerships Australia event on Friday the pandemic would not disrupt medium- and long-term trends in infrastructure such as demand for assets that supported decarbonisation and renewable energy, but would accelerate some trends.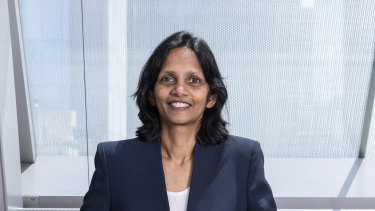 That included digitisation, she said, pointing to the fact that internet traffic had gone up 1.5 times between December and June which sparked investments decision such as Macquarie buying an 88 per cent stake in Sydney "hyperscale" data centre AirTrunk in April.
"Another one is supply chains; with people much more now working from home but also shopping from home and learning from home… there'll be a need for investment in logistics infrastructure," she said.
Macquarie's infrastructure investment arm is one of the 50 largest in the world, with almost $600 billion worth of roads, bridges, farms, energy and other assets under management around the world.
Ms Wikramanayake said urbanisation could slow in Australia as a result of the pandemic, with lower migration and people choosing to live in smaller towns and cities, which would mean infrastructure spending needed to shift to new parts of the country.
"But in the biggest cities we may have the ability after a long period of transportation investment to divert some of that to areas like education, health [and] housing," she said.
Australian governments had done a "great job" of keeping construction of major infrastructure projects going during the pandemic by enforcing COVID-19 safe programs on worksites to control the risk of coronavirus transmission, she said, and was encouraged that states were now bringing new projects forward.
"As we come out of this there will be even more need for the government to bring capital to infrastructure projects and keep driving jobs and stimulate the economy," Ms Wikramanayake said.
"But also they're going to be coming out of this with much greater fiscal debt at all levels, so they're going to need more private sector money coming in at all levels," she said, with the biggest demand for projects in investments were renewable energy, defence, health and digital infrastructure.
Along with emaciated public coffers, Ms Wikramanayake said mounting private sector savings and an ageing population that needed to put their retriment funds into protected, yield-paying investments would drive the need for private investment in public infrastructure.
Macquarie's infrastructure arm has been doing significant work in recent years to protect its assets from the effects of climate change, such as raising the Goethals Bridge in New York and building a flood levy around its Long Beach container terminal, and Ms Wikramanayake said the pandemic should spark similar thinking about how to make assets more resilient to other threats such as health crises.
"We're going to have to accept as investors in infrastructure that we need to be thinking about making our assets much more resilient," she said.
"Geopolitical issues are another thing we need to take into account – that may mean bring supply chains to be more domestic sources."
Market Recap
A concise wrap of the day on the markets, breaking business news and expert opinion delivered to your inbox each afternoon. Sign up for the Herald's here and The Age's here.
Source: Thanks smh.com