Mass job losses as Chevron sacks 230 workers amid Gorgon plant safety concerns
Chevron Australia has sacked 230 workers, sparking fears for staff at the $US54 billion ($73.7 billion) Gorgon plant in the Pilbara.
In a statement, the company said the latest forced redundancies were the result of an adjustment of the business in response to the impact of COVID-19 and a deteriorating business outlook.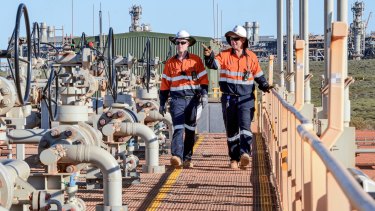 The news of the massive job losses comes on top of another 180 voluntary redundancies at the company.
"As we implement staffing changes, our priorities remain the health and safety of our people and the community and maintaining vital supplies of natural gas to our customers," a company spokesman said.
"We recognise the valuable contributions of our employees and are committed to providing appropriate support through this difficult period. "
The redundancies also come after maintenance checks revealed thousands of cracks in essential equipment at Australia's second-largest gas export facility in July.
Cracks up to 1 metre long and 30 millimetres deep were found in between eight and 11 kettle heat exchangers on train two of the plant. The kettles carry explosive pressurised propane and the discovery of the defects prompted the Australian Manufacturing Workers' Union to call for an immediate shutdown of the facility.
AMWU Secretary Steve McCartney said Chevron had proven time and time again it put profit before safety, and the latest jobs cuts were another example.
"At a time when all hands should be on deck to fix the catastrophic mess Chevron has made with its foreign-made trains, it decides to sack workers," he said.
"If anything it should be hiring more skilled local people to ensure the unsafe heat exchangers on trains one, two and three are welded correctly and safe."
Source: Thanks smh.com