NSW taxpayers liable if inquiry acts on Crown findings
NSW taxpayers could be forced to pay millions of dollars in compensation to James Packer's Crown Resorts if the casino group is ordered to implement tighter controls to keep criminals out of its $2.2 billion Barangaroo facility set to open in December.
A state government probity inquiry has heard over the past two months how Crown's lax due diligence and legal compliance controls led it into business with high-roller "junket" tour operators tied to powerful criminal syndicates and let itself be used to launder dirty cash.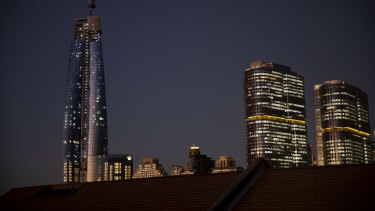 But The Sydney Morning Herald can reveal that under the terms of the deal Crown signed with Mike Baird's government in 2014 to open Sydney's second casino, the gambling giant is entitled to claim compensation worth 10 and a half times the estimated negative financial impact from "any action" the NSW government takes which changes, or has the effect of changing, its licence.
Crown can claim the same tenfold compensation for any government action which has a material negative impact on its "assets, liabilities, properties … operating results, operations, reputation or prospects", the deed says.
The clause opens the door for Crown to claim compensation if the inquiry's findings lead to new controls or restrictions over how it operates Barangaroo, or who it works with to fill its new casino with high-rollers.
Independent NSW MP Justin Field said the deed's implications for the inquiry were "outrageous" and could hamper the government acting on its recommendations to prevent organised crime and money laundering at Crown Sydney.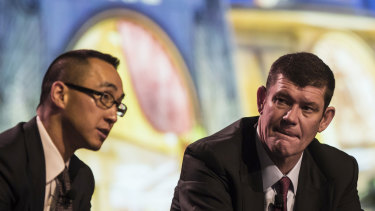 "There are questions to be answered about the failed probity process for the Crown licence and agreement and how clauses like this, that weaken the hand of the government and parliament to regulate in the public interest, were allowed to be included," Mr Field said.
Unless Crown made public commitment to not seek compensation for any regulatory changes stemming from the inquiry, Mr Field said the government should cancel Crown's licence and bring forward retrospective legislation to prevent compensation being payable.
A spokesman for NSW's minister for Customer Service, Victor Dominello, whose portfolio encompasses gambling licensing, said the minister was "aware of the terms of the agreement, including the compensation clauses".
However he "does not intend to pre-empt the outcomes of the Bergin Inquiry nor the regulatory changes which it might give rise to", the spokesman said.
The inquiry led by former NSW supreme court judge Patricia Bergin will report back to the Independent Liquor and Gaming Authority by February 1 on whether Crown is a "suitable person" to hold its casino licence. If it finds Crown is unsuitable, Commissioner Bergin will report on what changes – if any – would be required to make it suitable.
Meanwhile questions has also been raised about Crown's intention to open its VIP casino in December this year, potentially before February 1, 2021 due date for the Bergin Inquiry to report its findings to ILGA.
Federal Independent MP Andrew Wilkie, who has worked with whistleblowers that have exposed malpractice at Crown's Melbourne casino examined during the inquiry, said opening Crown Sydney before the probe into its character was finalised was "laughable in the extreme".
"Here we have Crown standing accused of systemic and prolonged misbehaviour which, if proved, would make the company patently unsuitable to hold any Casino license," Mr Wilkie said.
"Clearly they shouldn't get a Barangaroo licence. In reality the only unresolved question is whether or not they are a fit and proper entity to hold a casino license anywhere in Australia."
Asked if there was anything to stop Crown from opening while the probity inquiry was still pending, an ILGA spokesman said: "Crown Resorts has a valid licence to operate a restricted gaming facility at its Barangaroo site".
Crown declined to comment. Under the state deed, Crown is not entitled to compensation if ILGA terminates its casino licence outright on "disciplinary" grounds, which can include finding that Crown is unsuitable or that it or a company representative breached the casino act or its casino licence.
The inquiry – which was triggered by reporting on Crown's operations by The Sydney Morning Herald, The Age, and 60 Minutes – is examining one potential licence breach stemming from James Packer's agreement in May 2019 to sell a 20 per cent stake in Crown worth $1.76 billion to Hong Kong casino owner Lawrence Ho.
Crown's casino licence forbids it from having any involvement of Lawrence's father, the Macau casino kingpin Stanley Ho, and a list of associated entities due to long standing allegations of his ties to Triad criminal gangs.
The inquiry has heard that one of those band entities, a Ho family trust called Great Respect Limited of which Stanley Ho was a beneficiary, gained a relevant interest in Crown through the transaction. Stanley Ho died in May, a month after Lawrence Ho's company Melco sold the last of its Crown shares.
The Bergin Inquiry will next week commence a new round of public hearings in which Crown's most senior executives and current and former directors – including its major shareholder James Packer – will be grilled about what they knew about the company's infiltration by criminal syndicates, failures in its anti-money laundering program, and the lead up to the arrest and jailing of 19 staff in China on gambling crimes in 2016.
Get our Morning & Evening Edition newsletters
Source: Thanks smh.com