The new NSW headquarters of the tourism accommodation body, Tourism Accommodation Australia, (TAA) has opened in the heart of the Sydney CBD.
TAA national and NSW CEO Michael Johnson said despite the challenges of COVID-19 work was full steam ahead to start operations from the top floor of the heritage-listed Culwulla Chambers in Castlereagh Street.
It is located in the 380 square metre penthouse and features a glass atrium, interconnecting terrace and meeting areas.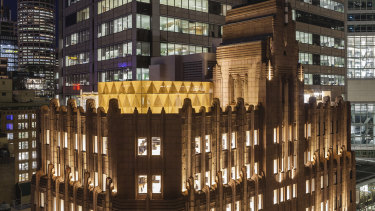 Mr Johnson said the new offices would give TAA a new identity in the heart of the Sydney CBD.
TAA worked with architects and construction company MPA to totally redesign and refurbish the site and a COVID-safe soft opening of the almost complete premises was held on Monday,
September 14.
The new digs come as negotiations are under way to create one united voice for the accommodation industry nationwide. Australian Hotels Association (AHA) president Scott Leach and Accommodation Association of Australia (AAoA) president Julian Clark said the AHA, TAA and AAoA were working on creating a united voice for the struggling sector.
"A small working party representing all of the associations has been put together to work on a new model representing one clear national voice for the accommodation sector," Mr Clark said
King Street
Fender Katsalidis, for developer Philip George and anchor tenant WeWork, has created a fifth elevation, at 66 King Street, by activating the rooftop, which was previously only used for building services and plant equipment.
The design of the rooftop acts as a "crown" on the top of the building, following the now A-grade building's internal makeover and a revitalisation of its heritage elements.
Also referred to as the ACA Building, it was built in 1938 and is a highly considered
and significant example of Modern American Gothic commercial architecture in Sydney.
As part of the building upgrade, the formerly under utilised rooftop has been invigorated to
allow for tenant access, maximising panoramic views of the city.
"Key to our work was creating a fifth elevation, celebrating and giving use to the rooftop
previously occupied by plant equipment. The result allows people to engage with the space,
the building and the city," Fender Katsalidis director Rob Mirams said.
"Adaptive reuse through rooftop spaces should be considered more on our heritage
buildings, promoting external amenity for commercial and public benefit."
The work at 66 King Street aligns with the City of Sydney's vision for well-designed and
activated rooftops.
Source: Thanks smh.com