Cash no longer king as pandemic rolls on
The way Australians pay for things has undergone radical change during the COVID-19 pandemic, with one in three businesses reporting they no longer take cash.
Square, a payments technology company, also found that 55 per cent of customers polled did not have any cash in their wallets and had not visited an ATM for at least two months.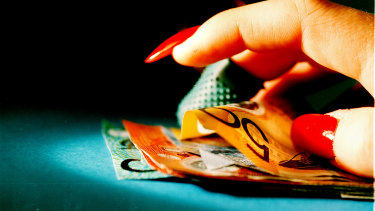 Square crunched the numbers from millions of transactions around Australia to come up with the one-in-three figure, where "cashless" is defined as accepting 95 per cent or more of transactions through credit or debit cards.
"As the COVID-19 pandemic began to sweep across Australia, so too did health and safety concerns among business owners," says Colin Birney, head of business development at Square Australia.
Ravi Sharma, banking and payments lead analyst at analytics firm GlobalData, says e-commerce has been on a growth curve over the past few years but COVID-19 has accelerated the trend.
"Social distancing, self-isolation and closure of brick-and-motor stores due to lockdown have led to higher preference for [online channels] for making purchases during the pandemic," Sharma says.
Professor Steve Worthington, from Swinburne University's Business School, says the fears of handling cash, temporary bank branches closures (some of which may become permanent after the pandemic has passed), and the prevalence of fewer ATMs are contributing to less use of cash.
Still, Reserve Bank of Australia figures show that while there was a big drop in the use of cash in the initial stages of the pandemic, its use has snapped back as coronavirus restrictions began to ease.
There were 45 million cash withdrawals worth $10.6 billion from Australian ATMs in December 2019. That fell to just 22 million, worth $6.5 billion by April; by July, they were back up to 35 million, worth $9.9 billion.
Cash is likely to have been stockpiled during the pandemic, though hoarding pre-dates COVID-19.
There has been much speculation about the reasons for the hoarding of $50 and $100 notes, including the cash economy, the illegal economy and retirees reducing the money they have in savings accounts and other investments to maximise their age pension.
RBA figures show that in 2018 for every Australian there still remains about thirty $50 banknotes and fourteen $100 notes on issue.
Tim Wildash, chief executive of Next Payments, Australia and New Zealand's biggest independent ATM network, says the "idea that cash is dead is ridiculous". Cash will be around forever, he says.
"These [RBA] numbers represent a vote of confidence in cash and a strong statement that Australians want to keep their right to access and use cash," Wildash says.
Professor Worthington says health authorities advise using cash is no worse for hygiene than plastic cards. Still, he says there will not be as much of in circulation in future.
"Cash is harder to get and cash is not accepted by some merchants," Professor Worthington says.
However, its availability is important as more than two million people who do not have regular access to the internet, he says.
Source: Thanks smh.com