Seniors living development plans at Waverley Bowling Club
One of the most sought-after sites in Sydney's eastern suburbs, the Waverley Bowling Club, is being offered for sale with an approval to construct apartments, aimed at the seniors living demographic, that will also include a new clubhouse and bowling greens.
The site is owned by the Eastern Suburbs Leagues Club which has been in long and fervent discussions with its members in order to proceed with the sale. It has said a sale of the land was needed to ensure the survival of the club.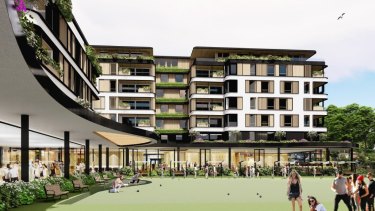 Under the development application there will be 55 apartments for senior living on an approved site totaling 10,646 square metres. No sale price was disclosed for the site.
JLL's directors Simon Quinn, Ben Hunter and James Aroney have been appointed to sell the development at 163 Birrell Street, Waverley.
The site currently features three bowling greens and a two-storey clubhouse, and has been home to Waverley Bowling Club since 1967.
The agents said the development approval provides for four separate seniors living buildings – comprising a mix of one, two and three-bedroom apartments.
Incorporated in the approval is the development of a new bowling club with two championship bowling greens and a small clubhouse.
It comes with views to Bondi and Tamarama beaches and very close to the Bondi Junction retail precinct.
Mr Hunter said Waverley's 55-plus age demographic is expected to grow significantly in the coming years through generational change, which he said will be the main driver in the demand for seniors living accommodation moving forward.
Easts Group chief executive Joe Kelly said the club was "delighted" to be bringing such a development opportunity to market in Sydney's eastern suburbs.
The offering supports the growing demand for seniors living in the area, whilst also allowing our Group to reinstate a modernised bowling club that caters to our members, bowlers and local residents," Mr Kelly said.
Waverley Bowling Club President Patrick Fitzsimons confirmed the Club has worked closely with the Easts Group and community representatives to achieve the progress so far.
"We look forward to working alongside the Easts Group and the developers further to realise the new club, which will celebrate its 130th birthday on the new premises in 2023," Mr Fitzsimons said.
Source: Thanks smh.com